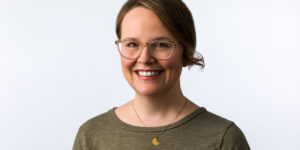 So I trust that you've seen that Heidi Mac over The Beat way has combined the responses from her people-in-comics survey (cf: yesterday) to determine the most important industry people of the year (Dav Pilkey and Tom Spurgeon), and also the most significant person of the past decade.
If you read through the survey, there's no doubt as to the consensus: it's Raina¹, and who among us can disagree?
Well, technically I did. I've marked down Raina as the most important person in comics in pretty much every one of The Beat's surveys since I've been invited to participate, and anybody that's been reading this page for a hot minute knows that I don't ever shut up about her central importance to the industry. So what was I thinking? Allow me to quote myself:
Uncharacteristically, I'm not going to say Raina/SMILE, because the past decade in comics nearly completely coincides with the work done by Mark Siegel and the people he's nurtured at First Second.
It's because I took a view of the entire system of comics. Raina is key, she kicked off an explosion of new readers, and there will be untold new creators of comics — new Rainas if you will — from her fanbase. But because of Mark Siegel, those new Rainas will have publishers, plural, to partner with. Siegel not only oversaw the creation of :01 Books into a powerhouse publisher, he has seen members of his team go on to found other imprints at other publishers. There's a view of comics that he has (quoting again):
[H]ow broad comics can be — everything from board books to treatises on immigration policy — is now de facto editorial policy across the publishing industry.
Raina is the superstar that was necessary to jumpstart an industry out of doldrums. Siegel built the infrastructure that ensures Raina isn't a one-off. If you'll allow me to indulge in a sports metaphor — something I probably wouldn't have ever done had I not gotten to talk to Gene Yang² about his process of discovering a love of basketball — no superstar can play the game solo. There's an ongoing infrastructure of coaching, finding talent and developing them, building a team that ebbs and flows and spreads its influence and enables that superstar to be the best ever.
So: Raina is Megan Rapinoe, Siegel is the entire structure of women's soccer, from college up to the pros, only without being institutionally exploitative and sexist. Shit, this probably would have worked better as LeBron/the NBA, but I really like Rapinoe.
One last quote, promise:
Literary awards, widespread adoption by libraries, growing acceptance in classrooms, the explosion of nonfiction and educational comics, creators headlining book festivals, new title announcement exclusives in major newspapers and magazines, the odd genius grant or ambassadorship — all of these would have happened without First Second, but they happened a hell of a lot sooner with First Second.
And that's why I broke with my own precedent, despite the fact that Raina is a dear friend of mine and an absolute marvel of a human being, and coincidentally why I don't mind in the least that I was far, far outvoted. We need the superstars and the league both, but one is too large and diffuse for us to properly appreciate all it does.
And on that note, let me point out that we are two weeks away from the release of the first title from Gina Gagliano's Random House Graphic, The Runaway Princess, which is going to be the start of a damn interesting 2020. Forward to the new decade.
---
Spam of the day:
I made a screenshot of adult sites on which you're having fun (you know what this is, right?). After that I made screenshots as you quite unusual satisfy themselves (using your device's camera) and glue them.
Would that be the camera that I don't have (desktop), or the camera that has a physical shutter across it (laptop)? Also, since you only gave me 48 hours from the reading of your email threat to send you five hundo in bitcoins and that was back on 19 Dec, can I assume all my friends and family have now been sent completely black pictures that I'm supposed to be embarrassed about?
_______________
¹ The Fleen Style Guide states that a full name should be used on first reference, followed by family name only on subsequent references, unless the presence of duplicated family names would cause confusion. Exceptions exist for longtime established nicknames, and for the two persons who are known on this page solely by mononyms: Raina and George.
² Do I need to say that Yang's past decade is inextricably linked with Siegel's?