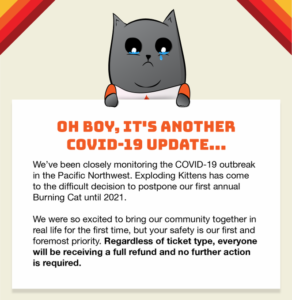 That would be two different fallen; the first would be Michael Payne of which more was said in the Breaking News Bulletin earlier today. The second would be the latest round of cancellations, of which there are two to mention at the moment:
---
Spam of the day:
I don't want to scare you….
But I do want to wake you up to the fact that corona could be the most dangerous epidemic this country has seen since it started.
Fuck on off out of here with that shit. You don't care about a godsdamned thing except separating fearful people from their money. Also, you apparently have never heard of smallpox, you fucking parasitoid.
_______________
¹ Namely, Seattle and San Francisco. Of course, it's likely that everywhere has far more cases that have been reported due to the slow rollout and insufficient numbers of tests.
At this point we're probably better off skipping testing for anybody that's not symptomatic except for healthcare workers (don't want to spread it, but don't want to require self-quarantine and removal from duty on the basis of a casual contact that didn't take) and so we may never know the true extent.
I'll tell you this, though — it's at least two orders of magnitude of diagnosable cases than the approximately 600 that have been test-confirmed in the country so far.
² And as an EMT, I'm getting guidances from both the CDC and the New Jersey state Department of Health, in addition to that of the local hospitals we deal with.
³ Originally announced as ComfyCon, but it was pointed out that's not a generic term, but rather a specific name used by Danielle Corsetto and her convention wife Randy Milholland for their con-from-home, and has been since 2014. Spike immediately and graciously apologized for the "con" fusion and rebranded.