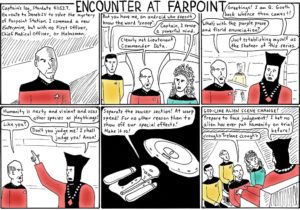 I am speaking, obvs, of David Morgan-Mar (PhD, LEGO®©™ etc)'s new comic project which turns out not to be Genesis II or Planet Earth. Pity. From Planet Of Hats:


Now, I am not committing to a regular weekly update for this. I'm not planning regular updates at all. For now, I'm going to squeeze in some drawing of new strips when I have time — I anticipate roughly once a month or so. If that changes, I'll let you know.

But that said, yes, we're off on a brand new continuing mission!

Encounter At Farpoint is a double episode, so I've split it into two comics. The second half will be along in a month or so.

At the rate of one episode per month or so, it'll be roughly four years before we get to the good stretch at the start of Season 3; on the other hand, it also means we have roughly until November of 2023 before we have to deal with the horror that is Planet Of Space Irish, so that's okay. If you're looking for decent episodes, check in around April next year, November next year, February 2022, or September 2022.

For the best episode ever¹, you'll have to wait until Summer 2030, unless Morgan-Mar steps up the pace, abandons the project, or we are reduced to a post-atomic horror not unlike that depicted in this month's featured episode. Fun!

Side note: This is normally when I'd be telling you who all would be at Em City, but a) I'd have to tell you about all the people that opted to sit this one out because of the novel coronavirus prevalence in Seatte, and 2) earlier this afternoon Reed!POP announced they're postponing:


We have been closely monitoring the situation around the COVID-19 virus in Seattle, and, after many hours of conversation internally and consultation with local government officials and the tourism bureau, we have decided to move next week's Emerald City Comic Con to Summer 2020 with date and detail announcement forthcoming.

I think this is probably the right decision, particularly given the financial hit so many creators were going to take whether they went (to diminished crowds and spending potential) or not (having to eat the costs of hotel and booth cancellations).

To all of our fans – you will receive a refund on your tickets, no further action is needed on your part. Due to the volume, we expect you will receive your refund in 30 days. We appreciate your patience and understanding.

That's good, although I hope they offer the possibility of people keeping their badges for the reschedule date or otherwise offer them to the existing badgeholders first.

Also, I notice nothing in there about exhibitors and booth costs being refunded; it makes a certain amount of sense to assume that they'd want back in at the later date, but if there's a conflict, they shouldn't be penalized. People clear their schedules to exhibit at ECCC, and if the new date is one they can't make, they deserve a refund on the booth and they shouldn't have to wait potentially months to determine if they can't make the new dates. I'd really like to see a statement that all booth costs are being refunded now, but as soon as new dates are decided, creators will have an appropriate amount of time — say, 10-14 days — to plunk down the money to get the same booth back.

Fleen wishes the best to all the creators who made a difficult decision (and reminds you — lots of airlines started allowing ticket cancellations without penalty in the past couple of days; if you were told to eat a penalty before, ask again), especially those who now have to scramble to figure out where an expected chunk of income will come from. If you've got a favorite creator, check out their store.
---
Spam of the day:
On February 11, 2019, Transformco purchased substantially all of the Sears Holdings assets*. As part of that sale, Transformco acquired Sears Holdings' customer information, including personally identifiable information.
Turns out this is actually legit, but damn if Transformco didn't set off my bullshit detector for sounding like the fakest-ass name of 2020. Weird.
_______________
¹ You may have your own opinion on this, but have that discussion elsewhere. This was TNG's finest hour.