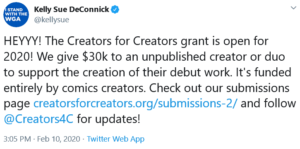 This is going to be somewhat brief, as we at Fleen (and by that I mean Fleen Senior French Correspondent Pierre Lebeaupin) are working up another posting in response to the breaking news.
Until then, I hope that you saw what would have been yesterday's most important story but for other (and much happier) breaking news — the Creators For Creators Grant applications are open:
HEYYY! The Creators for Creators grant is open for 2020! We give $30k to an unpublished creator or duo to support the creation of their debut work. It's funded entirely by comics creators. Check out our submissions page creatorsforcreators.org/submissions-2/ and follow @Creators4C for updates!
That from Kelly Sue DeConnick, all around amazing comics writer and one of the original — let's say signatories — that established the C4C grant back in Aught-Sixteen. Since then there have been three recipients¹; the fourth will receive:
[US]$30,000 to a single cartoonist or writer/artist duo in order to support the creation of a new and original work of a length between sixty-four and one hundred pages over the course of a single year.

In addition to the monetary support, the recipient of the grant will have access to mentorship from the experienced creators involved with Creators for Creators. Mentorship will cover almost every aspect of the comic-creating experience. The goal is to give the recipient a firm foundation in the creative, business, legal, and financial areas of the comics business.

The recipient has total control over how and where they choose to publish their work once it is completed, whether they choose to submit it to a creator-owned publisher or release it themselves in any format. Iron Circus Comics and Image Comics have both pledged to support the recipient by publishing their work, if the recipient so chooses. No matter their choice, the recipient retains all rights to their work.
Applicants (18 years and older) must not have had solo work published by a third party (anthologies and self-publishing are okay), and the work submitted for the grant (which must be 64-100 pages when complete) must not have been submitted for publication in the past year and must be original. The full guidelines, application [PDF], and release agreement [PDF] are at the C4C site; send them with your supporting materials to submissions2020 over at the creatorsforcreators site, which a dot-org. Applications must be received by 11 May 2020, and the recipient(s) will be announced in June.
---
Spam of the day:
Clear View–Drive Safe, No Matter What the Conditions
Dude, you had a lot better chance of getting my money when you had the rapping dude on 80s daytime TV hawking BluBlockers™.
_______________
¹ Who mostly are not originally American/Canadian; there's huge world of comics built out of experiences from outside North America, and we're all luckier for getting to see them.