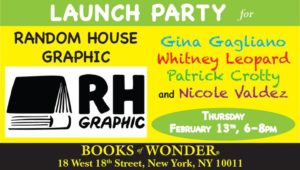 We at Fleen have been very excited for goin' on two years now about the launch of Random House Graphic, and about Gina Gagliano being named to head up the imprint. We've followed the announcements, watched the first book hit release, looked out the next couple of years at what's coming down the line.
Now it's time to celebrate, y'all:
Come meet the Random House Graphic publishing team: GINA GAGLIANO, WHITNEY LEOPARD, PATRICK CROTTY, and NICOLE VALDEZ, as they discuss the launch of this new imprint, featuring The Runaway Princess by JOHAN TRIANOWSKI and Bug Boys by LAURA KNETZGER. [emphasis original]
That from the events page of Books Of Wonder, the venerable New York children's bookstore. They'll be hosting the imprint launch party on Thursday, 13 February, from 6:00pm to 8:00pm at their 18th Street location, in the vicinity of Union Square Park. Both Bug Boys and The Runaway Princess will be available for purchase, and each copy sold will be matched with a donated copy to a children's charity. Light snacks provided, but I'd grab an insurance slice beforehand if I were you.
There's a lot of talk these days about how publishing remains overwhelmingly white, but if you kept an eye on the acquisition announcements, RHG is buying books from a lot of POC, and mostly from women. True, graphic novels take a long time and we won't see a lot of them until next year or later, but it's clear that Gagliano, Leopard, et al, have decided that they're going to be part of a solution to books only reflecting a small percentage of the population, and I intend to thank them in person for it. If I see you there, say hi.
---
Spam of the day:
Are You __ gary tyrrell !!
I am, but possibly not the one you're thinking of.