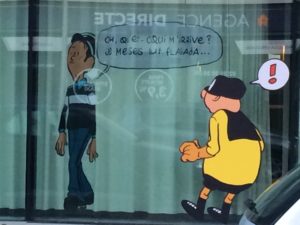 Editor's note: Please enjoy the first part of Fleen Senior French Correspondent Pierre Lebeaupin's con report from the 2019 Saint Malo Comics Festival. Take 'er away, FSFCPL!
__________
It would be an exaggeration to say that Saint Malo is lovely at the end of October, but the weather was pretty agreeable, as it has tended to be for my previous visits. For instance, while there was rain, most of it happened outside opening hours: when this happens, it makes the inside of the tents, where signings take place, rather noisy. This was the ideal backdrop for a new edition of Quai des Bulles and for me to cover it, and I was able to cover a broad cross-section of interests for sharing with Fleen readers.
The first discovery of note was the redone Palais du Grand Large, the convention center in which most of the activities take place (exhibitions, meetups, concerts, etc). The most notable change was the improved entrance and atrium, resolving some of the overflow at the entrance, but most significant was, as I learned, the fact that Quai des Bulles was the first event to take place in the redone center, and that they had only been able to access it one week earlier.

This was simultaneously testament to the significance of the festival that renovations were scheduled so the festival would be able to benefit from them, and a sign of the willingness of the festival to field test the improved infrastructure. While there was some unfinished business (for instance, I saw a sticker on a wall reading Reprise peinture, i.e. "Paint to be redone"), the festival activities did not seem to suffer from it and the center was fully functional (restrooms, in particular, withstood the load gracefully).

Friday already had fantastic programming with a meetup with Pascal Jousselin, interviewed by Arnaud Wassmer, to talk about his creation Imbattable but also his career. You may remember Jousselin from previous coverage, and this time I was able to transcribe the talk and take photos since it took place in the Amphithéâtre Maupertuis; I expect that to take its own post. Many children were in attendance, as Friday tends to be children's day (we were in a school holiday break).
In between two events I was able to look at the exhibition they called indie americans, centered on small press creators. I must admit the only names I recognized were Derf Backderf (who was on site, though I was not able to attend the meetup) and Liz Prince, and there was no one associated with webcomics, but this shows a willingness from the festival to look outside the beaten path for talents and phenomenons to showcase.
In the signing area, my first visit was to the Ulule booth, featuring Maliki, Laurel, and Yatuu, the heavyweights of French online self-publishing: they total more than 50,000 bookscce preorders from their Ulule campaigns between them. Furthermore, such a concentration can only happen in Brittany, as Laurel has expressed she would only sign there (which has been the case so far), such a location is also preferred by Maliki, as they also live in Brittany, and logistics favor it, as they now have three young children and six cats between them three (Maliki and Laurel have been known to watch each other's children and cats when only one of them signs, but that can't be the case here). It was also the first time in many years that Souillon (Malikis representative for such events) would booth in a traditional French comics festival (he often signs at Angoulême, but hosted by a bookshop).

In short, this was not a sight to miss, and throughout the weekend I saw all three sign books while their respective partners would handle merch, transactions, etc. (or at least two of them; the partners team tended to rotate). In particular, Souillon's line was packed for all three days, from opening to closing; at no point was I able get a clean shot of the booth.

Saturday began with a meetup with Laurence Croix, listed in the programming as Imbattable's colorist, but the talk went way beyond that small part of her activities to cover what it means to color a comic book, so it was transcribed, as well, and will be its own post. In particular, while Laurence Croix does not draw, a number of female French webcartoonists, such as Thorn or Maëla Cosson, make a living by coloring published books, so it is interesting to see their place in the publishing flow.
Later in the day, I was able to visit the Lapin booth, their first at Saint-Malo in three years. Not that I had a particular need to see them, for instance I saw most of them for Lyon BD, but it was good to catch up with the creators and the books that had become available in the meantime, which allowed me to get ahead with some of my Christmas shopping.
On Sunday I was able to take some time to attend a fairy tale performance, with Olivier Supiot drawing live. This time it was a number of short tales in quick sequence, and the experience was just as enjoyable as the last time; it's fair to say the festival does not merely keep children occupied with cheap entertainment.
Immediately after that I attended a meetup with Mark Waid where he introduced his new project at Humanoids, Ignited. While his process, including for these books, is firmly rooted in mainstream US comics traditions (he mentioned making them superpower-based so as to avoid stories perceived as boring, and when asked about the lead time he confirmed he was able and willing to adapt to current events with a lead time between writing and floppy publication of three months) such that his work is not necessarily what we are most focused on at Fleen, I appreciated his willingness to create bridges between US and French-speaking audiences (he mentioned the books, at least the TPBs, publishing simultaneously) and the process by which he tackles these difficult subjects, for instance he mentioned making sure he was paired with a non-white co-writer, and consulting shooting survivors early in the writing process.
I was able to chat with creators Charlie Genmor and Holly Rectum, who you may remember from my Lyon BD report, since each of them was now published by Delcourt, and we were able to chat about their non-binary coming-out zine and Charlies delightful LGBTI+ mermaids: besides the Delcourt signing they also had their own booth under the Bande de Déchets (Garbage Gang) collective where they were able to sell prints of their mermaids, so of course I bought one.
Finally, I was able to experience an unreleased story of Imbattable that was designed specifically for the location, the building La Grande Passerelle, with the panels, and sometimes just the characters, being printed at macro size and being plastered on the walls, but also the ground, and many other situations such as on the side of a parked car (purposefully put there, of course). In the end you had to go outside and make a full rotation around the building to be able to follow the story, which as a result would be hard to publish elsewhere, though photos can be shared.

At the same location Imbattable was the subject of its own exhibition, though it was cleverly used as a way to illustrate comics concepts; and they took it very far, as the concepts included comic bubble shapes or lettering effects. Régis Thomas put in effort to make the exhibition follow a narrative of how a story is created, from conception to colored page through intermediate stages such as layouts, inking, etc, going as far as to imagine the kind of script that would be created for a page if it had been necessary to hand it off between the writing and drawing steps (in practice, Jousselin does not need to formalize in such a way given he both writes and draws).

The last part, centered on coloring, shows not only the usual coloring work but also how colorist Croix had to get involved in the magic of comics: her work had to be tightly coordinated with the plot in a story in tome 2 that involves color-based powers; I won't say more. The examples are well-chosen, resulting in a very didactic exhibition where I managed to learn a thing or two, so kudos for Régis Thomas for setting it up.¹
__________
As always, we at Fleen are grateful for the contributions of our BD desk and the comprehensive reporting it offers. Many thanks to FSFCPL for this, and the additional reports in the coming days.
---
Spam of the day:
Moskinator is a portable, solar insect zapper that removes troublesome insects in a quick, effective and hygienic manner.
You say it's solar, but later on you say it's USB powered. Are you implying that the Sun is compliant with USB-C? Neat trick if true.
_______________
¹ I also learned on the occasion of the festival that Imbattable had been translated in English and published on Comixology [Editor's note: The translated title is Invincible.], but I cannot recommend that edition: besides the general issue of DRM-laden digital books such that you may lose access to your copy without you being able to do anything about it, there is the fact Comixology can only emulate, at best, the additional printing pass applied to book 1 (with words instead to point at the phenomenon), and more seriously some of the creative choices, such as some precisely highlighted in the exhibition as part of lettering, have not been reproduced in the English-language version.
This is all the more problematic when the choices not carried over are remarked upon by the characters! (It's complicated. Let's just say that, in Imbattable, the fourth wall may be closer to you than it appears.)