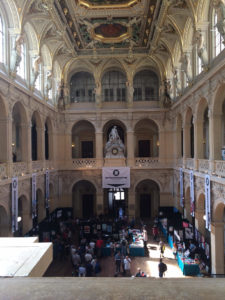 Editor's note: Fleen Senior French Correspondent Pierre Lebeaupin continues his reporting of the French comics festival scene.
_______________
Setting up a festival of the scale of Lyon BD is never an easy task, but this year they had their work cut out for them. For instance, terror level in France as a whole has abated somewhat since 2017, when I first went; but the explosion of an abandoned package which wounded about a dozen people (they're all out of the hospital by now) in the center of Lyon mere weeks before the event was undoubtedly responsible for heightened security: mainly, the need to show an ID before entering the main festival spaces on Saturday, and the need for tickets to be nominative, which was completely unplanned. As a result, at the ticket booth vendors had to manually write down the name of the attendee on the tickets, slowing down the sales process and lengthening the lines.¹
Given that context, my Saturday went remarkably well. I took advantage of the lack of panels in the morning to check out local creator Phiip and his Lapin crew (Marc Dubuisson, Cy, Tim, etc.), and catch up on their latest releases. Same with Thom Pico (who I met for the first time on this occasion, allowing me to congratulate him for not talking down to kids in his writing, and he was glad I noticed that) and Karensac, whose Aster is slated to be released in English by Random House in 2020.
[Editor's note: I'd been wondering when another imprint would challenge the essentially free reign :01 Books has had with grabbing the pick of Franco-Belgian comics for re-release in the US; it's not surprising that it's Gina Gagliano that's taken up the banner.]
Then the afternoon was the occasion to get to the LGBTI+ comics event (the second edition, meaning the first wasn't a one-off), where I bought a zine from Anna Lkiss and Holly Rectum, where each of them tells how they found out they were non-binary. Then a number of panels and events on Chilean comics (including a zine created by women, the latest edition of which they made wordless, in order to present their work abroad), on migrants entering France through the Roya valley north of Nice, and on making the invisible visible, where creators of a "hobo mom" story, of a story of a Roma family tricked into emigrating to France then getting trapped into debt by the human traffickers, and of a story of emigration from Africa to Europe, exchanged on their processes for bringing these stories to life. For instance, Christian Lax, creator of the latter story, told he took advantage of a partnership with a museum and mixed that with a migration theme to create the story of a man saving an African art artifact from Muslim fanatics by taking it with him in Europe.
Come back soon for coverage of the third day, including U.S. and English creators, Pénélope Bagieu, and Boulet.
---
Spam of the day:
This revolutionary lightbulb camera is driving home security companies out of business
Yeah, under no circumstances am I putting an unvetted wi-fi attached camera on my home so that you assholes can either stripmine the video for your own purposes, or leave it exposed to the world. Bugger off.
_______________
¹ Oh, and the Lyon city hall was searched by police mere days before the festival following an inquiry involving the mayor, though I have no idea whether that affected festival activities.