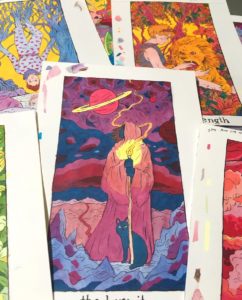 Oh, but it is drear out there today, but I've had conversations about literature and art, and there are nifty things a-borning that I'm happy to share with you.
This page stands second to none in its admiration of Tillie Walden's work, as well as consideration of the fact that she must at some point take a breath before diving into her next head-down, year-long creative endeavour. You can't work like you're 23 forever, after all. And while I will always greet the announcement of a story from Walden, I'm also pleased to see that her next announced release will not be narrative in form, but an act of almost pure illustration:


It may be a year away but multiple award-winning artist Tillie Walden's next project from mind-body-spirit publisher Liminal 11 is one that will no doubt be eagerly anticipated for the next twelve months by her ever growing fanbase. Walden's Cosmic Slumber Tarot is described by Liminal 11 as "a unique exploration that will undoubtedly bring tarot to a whole new audience. At once, both gloriously universal and deeply personal."

Did I say non-narrative? I meant in the sense of named characters and dialogue and plot; anybody that's been following Walden's twitterfeed for Inktober can tell you that her illustrated pages tell stories of their own, your imagination supplying all the necessary details. Walden will be sharing the work as it's made over the next however long online, so follow her if you aren't already.

Hey, you know who is the best friend to individual creators in comics is? Scott McCloud. His superpower is he forgets no one, no matter how long it's been since he saw you last, or how long it takes you to complete a work because little things like life insist on being attended to. It's because of McCloud's twitternouncement this morning that I now know that Dirk Tiede is celebrating two damn decades of Paradigm Shift¹ with a Kickstarting.

Quick recap: Tiede started Paradigm shift in 1999, hopped to the Modern Tales (RIP) platform in 2002, self-published three books by 2010 and launched part four of story, which wrapped up last year. That fourth part was published as single issue minicomics, five of them, and they will be collected along with the first three parts of the story in a comprehensive, two-volume collection:

Volume One will collect the original books, Part One: Equilibrium, Part Two: Agitation, and Part Three: Emergence into one beautiful new collection with 340+ pages of artwork, footnotes and bonus material, including 22 new colorized pages.
Volume Two will collect the latest storyline, Part Four: Flight into a brand new graphic novel edition with 250+ pages, including 10 new colorized pages and footnotes.

Those two volumes are available for US$25 each, or US$50 for the pair, along with other, fancier support tiers. Campaign runs until the day before [American] Thanksgiving, and is more than half way to its (exceedingly modest) goal of US$5000. This one's a reward for everybody that's stuck with a story like an old friend, and for everybody who'd like to see what it's like to hold onto the act of creation for the long term. Check 'er out.

Finally, today is book launch day for Zach Weinersmith and Bryan Caplan's policy paper with word balloons, Open Borders. Weinersmith first mentioned it as a thing back during the book tour for Soonish, with a formal announcement and release date coming back in the spring.

This book has taken a lot of Weinersmith's time for a while now, but the thing about him is, he's basically unable to spend much time working on only one daily comic strip, raising two small humans, and reading more than anybody you know²; he's constitutionally got to have a much bigger project to work on at the same time. For a while there, he was doing all his dad-and-SMBC work, and working on Open Borders, and creating a civic-education comic with his political scientist brother.

Before that, it was Soonish. Mixed in with all that, BAH! Fest, on at least three continents. Before that, Augie And The Green Knight with Boulet. Before that, SMBC Theatre shorts and a feature-length movie. Before that, a handful of other comics.

My point is, with Weinersmith now merely responsible for the not-dying of two children, supporting his wife's academic career, and producing comics on the daily, he's going to get that itch again at some point, which means take the opportunity to grab Open Borders now because it's just a matter of time before we have to run to catch up to him on the next thing. Or at the very least, check out the video interview with the two of them over at Heidi's place.
---
Spam of the day:
A breakthrough study has shown that this "odd" vegetable reverses diabetes at the source. Can you guess which one it is? a) Horned Melon b) Kohlrabi c) Jicama
Well gosh, a) is a fruit, b) isn't odd, it's genetically identical to a half-dozen of the most commonly eaten veg that exist (thanks, Brassica oleracea), so I'm guessing jicama? But why hedge your bets? I bet you could do an awesome slaw out of all three and never have to click your malware-infested clickbait site to clarify the fake fact you're dangling at me.
_______________
¹ Near as I can tell, the first mention of him here at Fleen was in February 2008 on the occasion of picking up the first volume of PS.
² For real, guy reads 25 – 30 books a month, and I'm not exaggerating.