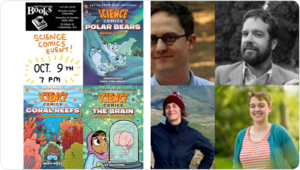 Alliteration, too. Let's jump in.
I first started reading Jennie Breeden's non-Satanic, non-porn autobio strip, The Devil's Panties, way the hell in the past. Maybe 2002? 2003? I'd been a reader for years before she tipped me off to A Girl And Her Fed¹, and that was 2006 so somewhere in there. I've followed a post-college career, time working in a comic shop², dating, pirates, breakups, marriage, family, a cross-country move, kilt-blowing, and now pregnancy and imminent childbirth (the real life corresponding event being some two years in the past by now).

Although she exited the Daily Grind Iron Man Challenge after about two years (and let's not forget that the Daily Grind Iron Man Challenge site itself is no longer operational, but that the last two contestants continue on, 14.5 years on from the start), she's been putting strips up like clockwork since.

As of today, for eighteen damn years:

Guys… guys, my comic is 18 today. It needs to move out or start paying rent.

The start was understated, and today's strip takes approximately zero time to acknowledge the strip's birthday. That's just the way it is with daily autobio — no time to gloat, tomorrow's strip is due. Happy Strippiversary, Jennie, Obby, Devil Girl, Angel Girl, Pretty Pretty Princess, and Small Child To Be Named Later.

Hey, whatcha doing tomorrow? If you're around Boston, you could be seeing science-comics types in conversation at Porter Square Books in Cambridge:


We interrupt these Inktober posts with an important announcement: I'll be doing another awesome Science Comics event with @toonyballoony @Zackules and @jasonviola at @PorterSqBooks this Wednesday October 9th 7 PM!!

That from Maris Wicks, who's done books on coral reefs and the human body, and paired up with Jim Ottaviani for books on women on the leading edge of primate research, and women on the leading edge of space exploration (the latter coming in February). Oh, and she's also done nature cartoons from the middle of the sea, the edge of a frozen continent, and the heart of the city.

Alex Graudins illustrated a book about Reginald Barkley and also the human brain, and an upcoming book on the Great Chicago Fire (due next June). Zack Giallongo and Jason Viola teamed up to teach us about polar bears, and Viola has also chosen a manatee and an amoeba as stars of other comics. They're all there because of their association with the :01 Books Science Comics line, which remains an excellent way to spend your time and money. The talk starts at 7:00pm, next to the Porter Square stop on the MTA.

Finally, the latest from Kickstarter United, ways that you can help their efforts to make Kickstarter see the sense of recognizing the union:


Make your opinion heard:

email Kickstarter's senior leadership:
kickstarter-sot[at]kickstarterunited.org
post your support using #RecognizeKSRU
post a picture showing your solidarity and tag @ksr_united
download a version of our logo to use as your icon on Kickstarter, Twitter, and anywhere else
back projects that show solidarity with Kickstarter United
have another idea? get in touch!

Show solidarity on your project page:

add #RecognizeKSRU to your project title or subtitle
include a note of solidarity at the top of your campaign text
download a solidarity badge to add to your project image
post a project update to rally your backers

For reference? While both logos are nice and eye-catching if somebody is looking at your Kickstarter profile page, the white one is easier to read if it's showing as an avatar, say on a comments page³. Just sayin'.
---
Spam of the day:
Senior Discounts|The Complete List Of Senior Citizen Discounts nice senior
I am, despite my desire for you durn kids to stay off my lawn, not yet a senior citizen. And I can assure you that when I become one, I will not be a nice senior.
_______________
¹ When I did the foreword for the first AGAHF collection, I mentioned coming to the comic via Ms Breeden, and Otter gave me crap about pimping another comic in her book. So we're square now, right?
² Oxford, which is a very good shop that I make sure to visit whenever I'm in Atlanta.
³ Oh, and while it's nothing to do with webcomics, please look at that project page for ceratopsian action figures and pledge up the total to somewhere around US$450K in the next week, please. It has to hit that funding level to unlock the full-size Triceratops horridus (stretch goal #20). I have the sub-adult trike figure pledged, along with a Zunicertaops christopheri (each of which is approximately the size of my BONE Stupid Rat Creature, if you disregard the tail), but I need that full size critter (approximately the size of Kingdok, again neglecting the tail) if at all possible. Thank you.