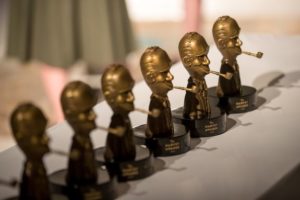 I don't think this has ever happened before — a comics awards nomination list came out and I can't find a single fault with it. There's an embarrassment of riches in the Harvey Awards for 2019, and in multiple categories there are so many good works nominated that I'd be hard pressed to select any one (were I a voter, which I'm not). Let's begin:
Book Of The Year includes Hey, Kiddo by Jarrett J Krosoczka, Kid Gloves, by Lucy Knisley, Laura Dean Keeps Breaking Up With Me by Mariko Tamaki and Rosemary Valero-O'Connell, BTTM FDRS by Ezra Claytan Daniels and Ben Passmore, On A Sunbeam by Tillie Walden, When I Arrived At The Castle by Emily Carroll (Koyama Press) — any of which I would be thrilled if they won — along with Belonging: A German Reckons With History And Home by Nora Krug, Berlin by Jason Lutes, My Heroes Have Always Been Junkies by Ed Brubaker and Sean Phillips, and Upgrade Soul by Ezra Claytan Daniels.
Digital Book Of The Year includes Check, Please by Ngozi Ukazu, Space Boy by Stephen McCranie, The Contradictions by Sophie Yanow, The Nib edited by Matt Bors¹, and Woman World by Aminder Dhaliwal. I'm not familiar with Space Boy or Woman World, but the other three are top notch.
Best Children's Or Young Adult Book² includes Hey, Kiddo, Laura Dean Keeps Breaking Up With Me, Mr Wolf's Class #2: Mystery Club by Aron Nels Steinke, New Kid by Jerry Craft, and On A Sunbeam. Three of those are also up for Book Of The Year, which should tell you something about how critical the MG/YA space has become to comics.
Best Manga includes Frankenstein: Junji Ito Story Collection, Mob Psycho 100 by ONE, My Hero Academia by Kohei Horikoshi, Our Dreams At Dusk by Yuhki Kamatani, Smashed by Junji Ito, and Witch Hat Atelier by Kamome Shirahama. I'm only really familiar with Witch Hat Atelier — which is excellent — but I recognize the others from the Best/Worst Manga session at SDCC this year, all in various Best categories; when Chris Butcher tells you a manga is good, take that to the bank, friends.
Best European Book includes Corto Maltese by Hugo Pratt, O Josephine by Jason, Radiant by Tony Valente, Red Ultramarine by Manuele Fior, translated by Jamie Richards, and Waves by Ingrid Chabbert and Carole Maurel. I'll be honest, I'm not familiar enough to comment intelligently here, but I'd be very surprised if the nominating committee suddenly sucked for one category.
Best Comics Adaptation Award — that's movies and TV — includes Alita: Battle Angel, Avengers: Endgame, The Boys, Captain Marvel by Marvel Studios, Chilling Adventures Of Sabrina, Doom Patrol, Marvel's Spider-Man (videogame), The Snagglepuss Chronicles (a theatrical adaptation), Spider-Man: Into The Spider-Verse, and The Umbrella Academy. Ordinarily I wouldn't have a dog in this fight, but come on … Spider-Verse, right?
The Harveys had, in the past, a reputation for ballot-stuffing and really mediocre work being mass-nominated by publishers. This is … not that. Somebody really sat down and looked for outstanding work, and if there's one thing that stands out it's the utter lack of capes outside of the adapted work.
If you'd told me a year ago that this award would feature exactly zero bats or mutants, but instead feature multiple nominations for a memoir about growing up in a household dominated by addiction, a very queer high school drama, and and sci-fi story set in a universe of no men and spaceships that are giant fish, I never would have believed you. I honestly would have to vote by random chance among three to five nominees in no less than three of those categories. Here's hoping this is just the first year of a new era for comics awards.
The Harvey Awards will be presented on 4 October in conjunction with NYCC; voting by comics professionals is open until 10 September.
---
Spam of the day:
NostalgiaCon 80's Pop Culture Convention Launches Media Village for Media and Social Media Influencers
Okay, 1, quoting John Hodgman: Nostalgia is a toxic impulse and 2, quoting me, Influencer culture is a cancer. Also, 3, your press release says this con will be in Anaheim, but your offices are in Miami, what the fuck? and 4, you credit the con as the brainchild of two people including — and I'm not making this up — the Chairman and CEO of Walmart's exclusive car-buying platform, what the actual fuck?
_______________
¹ That's the way the nomination reads; as Bors noted on Twitter, if The Nib wins, it's a recognition of all of his editors: Eleri Harris, Matt Lubchansky, Andy Warner, and Sarah Mirk.
² Note that those are very different demographics!