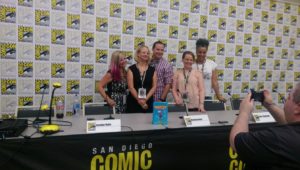 [Editor's note: As in the past, these panel recaps are based on notes typed during the session; all discussion is the nearest possible paraphrase, except for direct quotes which will be italicized.]
That is, there are special challenges in doing book series, and Dr Rose Brock of Sam Houston State University in Texas wanted to tease out those challenges with the help of Jenni and Matt Holm, Raina Telgemeier, and Traci Todd, head of children's publication at Workman; the latter had invaluable insights to offer on the production end of things.
It's a huge topic, and discussion ranged from What made you want to collaborate? (directed at the Holm siblings; Jenni's answer: I didn't have to pay him. Matt's answer: The [prose] book she was working on featured an older brother who communicated with a younger sister via comics he drew, and I created those cartoons; it wasn't published until years after the Babymouse series debuted.) to the challenges of starting new series (Jenni again: We were up against a lot of hurdles in 2000, 2001, going to publishers, children's imprints, trying to convince them to do a comic when they didn't have an art pipeline, they didn't know if girls would read them, they didn't know if bookstores and libraries would buy them.)
Sticking with Team Holm, there was discussion of collaboration (Matt: Jenni does the story in storyboard form, I'll revise and do thumbnails and send them to Jenni, and she'll lay them out, figure out how the comic will look. She was a video editor before an author, so it's like that — I'm shooting raw footage, she's editing.) and the amount of time it takes to finish a project (Matt: For a traditional graphic novel about 100 pages long, it's about a year from start to finish, from Jenni starts writing to I turn in the last of the art. We're almost always working on other projects at the same time. There's a lot of back and forth. One of the things you learn on a series is you have a lot of organization, we've got due dates in 2020, 2021.), a topic which others had perspectives on.
Raina wishes she had a collaborator to trade off with: I write a script in thumbnail, it's all there but really rough. It can take from a month to two years to get through that stage, especially with autobio — I look through old photos, ask friends and family if they remember specific aspects of what we went through. And then we edit my life. They'll tell me "Well, we don't really like the character's motivation here and I'm like "Well….".
For those wondering, Raina estimates Smile is about 95% true and Sisters is about 90% true, mostly because dates got changed and cousins excised to keep the story flowing. Her next book, bee tee dubs, [I]s also a memoir, it'll be a sort of prequel to Smile, which I haven't really announced before. Then I draw for however long and send it off to my colorist. Scholastic would like it to be a very regular process, but it can take two years, it can take five years.
Keep those production timelines in mind, because Matt noted that the first Babymouse took two years before anybody not named Holm or their editor saw it, so the work was very much in a vacuum. The later volumes, there was some expectation about how things would go, but the first was a tabula rasa. By contrast, Raina started in minicomics and webcomics, where the feedback is fairly immediate; once she started working on Smile, it would be years of working without that feedback process.
It was also a time of having to set reasonable expectations; Scholastic launched their Graphix imprint with BONE by Jeff Smith, a nine-volume epic that was done, all it needed was coloring. Some in Scholastic's hierarchy took that to mean that any graphic novel series could be produced on a six-month cycle and Raina had to point out that no, adapting the Baby Sitters Club books would take considerably longer, and her original works longer still. It seems obvious to us, but this was a new area for the publisher at the time; as it was, she wound up doing four books on a yearly basis, which is insanely fast.
Speaking of new areas, Raina pretty much invented (as noted by Mark Siegel a couple days ago) the area of middle grade memoir (and I'll go further and say graphic novel memoir in general), so that led to new questions: How do you determine what you're willing to tell about your life? As Raina noted, There's always going to be a limit of this thing will make this other person really uncomfortable. With Smile, my editors looked at the webcomic and said There are too many characters here and for a story about having no friends you have too many friends. She tried to stick as close as possible to the emotional core, and if I have to swap out who actually betrayed me, well, everybody betrays everybody in middle school.
Since editors were brought up, Brock asked Traci Todd about being an editor, and she talked it up with enthusiasm: Being an editor was not a job I realized I could have until I was an editor, so if you feel you can't be an author or illustrator, it's quite gratifying. Editors acquire stories they are quite passionate about; they are just as invested as the team creating the book and when you see those pieces start to fall in place, you're all on the same page, you just know the readers are going to connect with the imagery and the text. Even better, asked her favorite series to work on, she said I haven't had it yet. I loved the things I worked on [which to date is licensed work] but I'm still waiting for my favorite. That's the answer of somebody profoundly committed to making the next comic the best that's ever been.
Quick questions followed, starting with Advice to yourself as a baby creator?¹
Jenni: Don't do four books the first year.
Matt: Yeah. Desperately try to get regular schedule, don't stay up too late working, it's always better to stop and come back. Self-care is huge, thank goodness I had a dog and I had to chop firewood to keep the house heated.
Jenni: It took us years to realize that every book is not a sprint, it's a marathon, and then the series is a megamarathon.
Matt: Say No more often.
Raina: Be a curious person and have interests and make friends with your fellow creators. If you're a person who is interested in science or the outdoors or politics or society, you won't burn out all your inspiration after six books. Don't lock yourself in your room all the time.
Traci: Be brave. As an author I had a book I'd worked on over a decade I was too afraid to share but then I did and now it's going to be published. Related: be open to feedback and be gracious about the feedback you receive. Anybody giving you feedback wants the best for you and wants your work to be incredible.
Matt: Talking to humans is feedback. Talking on Twitter or Facebook is torture.
What are some of your favorite books that people haven't discovered?
Jenni: Be Prepared by Vera Brosgol. [all agree]
Matt: The problem is when do we have a chance to read?
RT: Sci-Fu by Yehudi Mercado. A kid DJ in Brooklyn is abducted by aliens and has to defeat them in DJ battle. Gale Galligan used to be my assistant and has taken on the Baby Sitters Club series. She's very manga influenced, it can be so shoujo, so good.
Traci: There's a new series I've heard of, about a little girl that can see a T-Rex nobody else can see, like Calvin & Hobbes. [Editor's note: I've not been able to identify this series; if you recognize it, please let us know in the comments.]
Raina: The Witch Boy by Molly Ostertag and its sequel, The Hidden Witch.
Jenni: Hey, Kiddo by Jarrett Krosoczka.
Questions from the floor followed. Asked what jobs they wanted when they were kids, the panelists replied:
Jenni: Ballerina, but I got fired from the ballet when I was about four years old.
Matt: I wanted to do this, but this didn't exist when I was a kid. I wanted to make those books of comics, the collections of daily strips that I didn't know until I was 10 or 11 that comic strips were out every day.
Raina: I wanted to be trapeze artist, then a farmer. I knew I would wear overalls and a hat; I grew up in the city and I think the thought of having space outdoors was the most exciting thing ever. Then at nine years old I decided to be a comic strip artist. I've had zero career aspirations since except to be a cartoonist.
Traci: I wanted to be a writer and thought the only way was to be a journalist, so went to journalism school and hated it.
When you're writing books and you want to put in people you know, do you have to ask permission?
Matt: Change all the names. When we did Sunny Side Up, it's fictionalized, it didn't happen on that timeline, we eliminated two brothers from the family.
Jenni: We changed it a lot. Babymouse, I mean I am Babymouse, he's Wilson Weasel. Felicia the mean girl is based on a real person but we'll never say her real name. Make her a cat and she'll never catch on.
Raina: I wish I had talked to you guys before I started this. I use real names and I make people look like they are and my dad likes to argue with me about that's not how that happened, that's not the order it was in. I have both the good side and the bad side about writing about my life, mostly good.
Matt: Don't put real people's names in, dedicate it to them.
Are you making more Sunny books?
Jenni: Matt will start drawing the third next week, it'll be out Fall 2019: Sunny Rolls The Dice.
How do you keep yourselves organized?
Jenni: I scribble out chapters as I go along and keep it on the wall. I use a MacGyvered storyboard; I use Scrivener in my novels, but it's overkill in graphic novels.
Matt: For Sunny, it's set in the summer of 1976, so I had to do a ton of visual research — cars, the airport, the clothes, it's all a giant folder of stuff for me and for our colorist. In terms of series, as we do twenty Babymouse books, I have to go back and make sure I'm doing characters right. I'm constantly going back to my old stuff. I have PDFs of every book when I'm on the road.
Raina: The minute I'm drawing, I lose details. I have blueprints of things like a classroom from all angles, where each kid sits, I've been looking at that for six months. I write outlines before thumbnailing, but it gets updated pretty constantly.
Jenni: It's fun to remember when you see something from the '70s, like seeing Sunny in the front seat with no seatbelt.
Matt: Photo reference was shocking. I didn't remember how many people wore plaid pants, everybody all wearing jeans, no girls in dresses …
Traci: I think that's one of the things an editor has to watch for; I'm constantly making sure kids are wearing bike helmets, seat belts. Memoir's one thing, but in fiction we want to make sure we aren't setting a bad example. We have a duty and obligation to readers of the book.
I love that line — a duty and obligation to readers of the book. Readers, all of these people not only want to tell the best story they can, they want you to be the best you can be. That's why comics (especially middle grade/YA, where so much of the best work is being done) is so great.
_______________
¹ That is, a creator in the baby stage of their career, not somebody who makes baby humans.