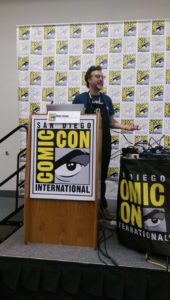 There may be nobody in comics and graphic novels more able to predict where it's headed than Mark Siegel of :01 Books, if only because of the talent that he has fostered: entire imprints are being established around :01 alumni like Gina Gagliano and Collen AF Venable. It was :01 that brought comics into the world of literary awards, it's :01 that is the sole publisher that cuts across all age ranges (picture books, kids, middle grade, teen/YA, adult) and all topics; the only limitation is that it's going to be a comic.
So how did we (the expansive we of the entire world o' comics, not the royal we embodying Siegel alone) get here? I've got my own theories, and one of them is that a good deal of :01's success is predicated on the fact that Siegel takes time for people; he's never been too busy to talk to me, and if he's not absolutely delighted to see me, he's done a damn good job acting like it. During our quick chat before the start of his (rather under-attended) talk at SDCC, we ranged from the tragedy of Last Man getting cut for lack of sales¹ to the dangers of projecting the laptop before verifying what's visible on the screen². Although the focus was on :01's place in the evolution of the graphic novel, he did take about a minute to talk about his own creative work — including a quick animated clip promoing the 5 Worlds series that he co-writes; think Miyazaki crossed with Jansson and you won't be far from the mark.
As you might expect, he talked about the milestones that :01 has been through — starting just as manga was peaking, and as the comics-buying demographic went from 85% male (mostly aging) to 65% female, American Born Chinese getting a National Book Award nomination and the Printz honor (the first comic work for both) in the first year of operation, ramping up from ~20 books a year to ~50 — but also looked at the industry as a whole:
Raina Telgemeier and Scholastic Graphix released Smile and literally started a revolution; middle grade memoir is now the single most successful category in comics. Alison Bechdel's Fun Home runs on Broadway. Nimona is found in the Library of Congress, was also nominated for the National Book Award, will be a feature film, and Noelle Stevenson is now showrunning the She-Ra reboot. This One Summer became the first book to take both the Printz and the Caldecott honors and was the most banned book of 2016³. The March trilogy took every honor under the sun, and the concluding volume won the National Book Award. Spinning is the latest runaway cross-audience hit (hello Eisner award, 2018).
It's not coincidental that most of those who created the works cited above? Women. There is in any given :01 season a roughly 50-50 split in creators along gender lines, not because :01 is looking specifically for women, but because they're creating the most interesting work these days, from high-brow to pulpy, young to old, ambitious to goofy, for comics and non-comics readers — by great new voices, and a worldwide talent pool as Siegel put it. The American graphic novel is now doing what Japan did in the 70s, what France did in the 80s and 90s: it's about any topic, designed for any age, being treated as any other book would be.
The way we got here — where graphic novels form what Siegel calls The New Mainstream — was entirely dependent upon the building blocks of the past. It works like this:
(2006: The New Mainstream)
(2000: The Manga Invasion =====)
(1986: The Graphic Novel ==========)
(1970s: Indy Comics =================)
(1960s: Underground Comics ===============)
(1960: The Silver Age ========================)
(1938: The Golden Age ===========================)
It was much nicer in Siegel's slide deck, but you get the idea; we can't get to where we are without having had each of the previous eras. The kids that read Golden Age comics grew up to create the Silver Age. The reaction to mainstream comics and the Comics Code Authority was the genesis of Underground and the Indies, where if you wanted to make a comic you could just make it yourself. The Graphic Novel served those that had read all of the previous stages and wanted something more. The Manga era, coupled with the example of Graphic Novels brought us to the current stage, where librarians and booksellers are as important as individual readers, for a catalog that's author-driven, not dependent on a single genre or visual style.
At the same time there's an element not in the diagram, but which Siegel made sure to discuss: webcomics is what indies and zines used to be — a proving ground and place to develop your talent, and spans all the time frames from the birth of the Graphic Novel to today. Take a look at the milestones section above, and realize that pretty much all of those creators came up through webcomics.
But even with this historical confluence, there's things you have to do to make it all work, and Siegel admitted there is a secret recipe:
Brilliant, talented, skilled creators (he used both words, drawing a distinction I think is often lost between talent and skill)
Belief in editorial care (editing is not meddling, it's a support to good storytelling; Siegel described how :01 uses a "story trust", where people workshop stories, with a shot of Skype call of himself, Gene Yang, and Sam Bosma, working with Vera Brosgol on Be Prepared)
Bridging fields, ages, genres, nations (the creators of The Dam Keeper came from Pixar and said We only want to be in the house of Gene Yang; Scott Westerfeld, an established YA writer, got paired up with Alex Puvilland to The Spill Zone; Nidhi Chanani did illustration work before Pashmina; webcomics creators like Gigi DG, Ngozi Ukazu, and Evan Dahm are getting approached to either reprint with :01 or do new originals works)
Pushing up, broadening, exploring the medium (the Science Comics will be branching to a history line and a maker line, featuring topics like knitting (!), baking, and car repair)
Librarians
This is too large for a parenthetical. Librarians are champions of graphic novels, and they've been instrumental in giving them legitimacy. They've spent money, they've gone from a single shelf to graphic novel sections in each age-specific area in their libraries. I've seen the changes since the SPLAT! symposium back in 2008 (cough, largely organized by Gina Gagliano, cough), where libraries had a programming track, maybe the first time that had happened at a comics event, and where the conversations were centered on How can I justify this in my budget? These days it's about justification, it's about figuring out how many copies to order to satisfy the waitlist and how long they'll last before falling apart from use.
That's it! Simple! Just spend a bunch of time in publishing, a bunch of time in comics, a bunch of time editing, a bunch of time building up your skills and credibility, then figure out all the budgets and promotion and logistics, whether this book is going to have a print run of under 10,000 or over 100,000 … okay, not simple, but not magic either. It's all about respect for the medium, respect for the creators, respect for the readers.
And librarians. They rock.
_______________
¹ Right at the time of an amazing cliffhanger, too; Siegel says he was convinced that committing to six volumes would have built an audience, but alas, it wasn't to happen. Then again, they say that Robert Kirkman's a fan, so maybe some day we'll get it back.
² A fair amount of my teaching is driven by presentation from my laptop, and I've come damn close to having confidential emails shared to my students. There was a very oblique reference to something that Siegel's been working on nearly as long as :01's been a company that showed for about two seconds and you'll not hear the story from me until it's well and truly announced, but take the lesson, kids: double check everything before screen sharing.
³ Which, Siegel notes, is great for sales because it keeps the books on the radar of buyers. For that matter, those foil stickers on the covers that say PRINTZ or CALDECOTT on them? They mean that about 80,000 librarians will order that book every two years forever. As Siegel noted later, graphic novels can have a slow burn. Unlike monthly comics having to establish high sales immediately or get cancelled (or movies depending largely on opening weekend), graphic novels can ride out a long tail.