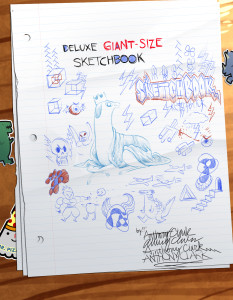 Before we get to some things that are happening in the various places, one piece of catching-up: remember what I said about big items yesterday? I missed one: Anthony Clark has a new sketchbook up for sale that clocks in at nearly 400 pages. It's pay-what-you want, with a minimum that's less than a dollar per hundred pages, available at Gumroad and/or Sellfy.
The Society of Illustrators may have finished up with the actual festival aspects of this year's MoCCA Fest, but that doesn't mean that all MoCCA-related activities have ceased until next spring. One may recall that SoI instituted an awards program for work appearing at MoCCA Fest, and the winners are the subject of an exhibit that opened in the Society's second floor gallery last night and runs through the 24th. Along with the exhibit, two other things are happening:


All materials chosen in the jury's initial survey will be acquired by Columbia University's Rare Book and Manuscript Library for the MoCCA Arts Festival collection, to be expanded annually.

A Happy Hour and Celebration will take place in the third floor Hall of Fame Dining Room on May 21st beginning at 5pm. A $5 cover charge will go towards the Society of Illustrators Student Scholarship Fund.

Oh, and if you're in New York City on 15 May, there's a lecture/reception/signing for Jillian and Mariko Tamaki's This One Summer. Short review (of a copy graciously sent to my by Gina Gagliano at :01 Books): it's a story that hurts in a real, tangible, maybe-necessary-maybe-not way. I suspect that if I'd been an almost-teen girl at any point in my life, it would ache and resonate even more. Getting to the truths below the surface of the One Summer in question is like having to peel away a bandage and finally let the healing of the wound below finish up.
Tangentially related, I don't know if anybody ever looks at the member's bulletin board section of the SoI website, but you know what I noticed there today? Job listings. Anybody want to head up the Sequential Arts department at SCAD? They're looking. Brad Guigar, this is your chance to not just teach arts entrepreneurship, but to remake an entire generation of comics kids in your own image. Your boisterous, eternally-laughing image.
There's other stuff going on this month in other cities, but let's just make today about New York and call it good. Original MoCCA showrunner Kristen Siebecker once again breaks out the booze and education for the latest iteration of Popping Your Cork. This time it's Thursday, 29 May at 6:30pm in Chelsea for a look at wines from around the US. It's twenty five bucks to register, but because you are reading this page and Kristen likes us, she's given us a discount code good for 15% off the tuition; just type in FRIEND10 when checking out, and enjoy the fruit of the vine.