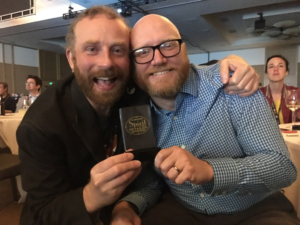 Friday can, ironically, be both the busiest day at SDCC (any given year, it's toss-up between Friday and Saturday), and also the one where things first start to feel slow on the floor. If there's something big in Hall H going on, or if the retailers start to run out of exclusives, there can be periods of relative quiet. For me, Friday was ironically a day that I woke up feeling great, mentally thanking the hotel bed for a terrific night's rest. A scant few hours later I would be mentally reciting Ow every other step because I am an old man and my spine is made of tissue paper¹.
I'm not sure if the fact that I spent a lot of time sitting in panels rather than standing at the booth was ultimately a positive thing or negative. On the one hand, discomfort was definitely tied to shifting my posture; on the other, I know that you just have to keep moving and encourage muscles to stretch themselves with motion. On the other other hand, I am a lazy, lazy man and sitting suits me just fine.
I started off watching people who make comics with a factual basis talk about their processes of developing topics, researching, and bringing essential truth while not getting bogged down in minutiae on the page. Or, in the case of Dylan Meconis, writing fiction where you get to decide that Henry VIII died before breaking with the Church, but obsessively getting the livestock correct. More on that, on Randall Munroe deep dives into the human systems and groups that deal with the odd corners of our world, and the longer interview-slash-conversation I had with Jim Ottaviani later.
Ursula Vernon had her spotlight panel in the afternoon, ably assisted by her A/V tech and partner in adventure/crime/marriage, Kevin Sonney. It was … look, if you've never heard Vernon talk, there's a lot of side quests in her conversational style, a lot of I have no memory of doing thises, and a lot a lot of hilarity. I'll be bringing you that story when I can come up with a way to describe it that doesn't amount to Look, you had to be there, but I absolutely will find a way. Until then, you can find her at the Sofawolf table (Booth 1236) for signings; stop by the booth to verify times.
Similarly, I need to find a way to discuss the panel for all-ages readers that featured a half-dozen Scholastic/Graphix creators talking about their work, and what they've got coming up. I don't want to reduce it to Here's a list of forthcoming books because it really was much more interesting than that. However, that will be an approach I am taking for the last panel of the day, the annual best/worst manga extended lightning round. Each panelist got 60 seconds on the clock to explain or defend their pick in each category, which does not lend itself to me taking a lot of detailed notes as to rationale (even if I hadn't volunteered to act as timekeeper, resetting and starting the countdown timer on an iPad from my seat in the front row). So there's a list of the picks below the cut with links.
Finally, word came late that Pat Race and Aaron Suring of Alaska Robotics were not recognized at the Eisners and you know what? It's okay. The Spirit Of Comics Retailer Award went to a couple of gents from Buenos Aires, and Pat and Aaron couldn't have been happier for them. By the end of the night, I heard talk of visits from the near extremes of the Pacific Coast, a Comics Camp exchange program, and an acknowledgment of how comics brings people together. We'll let Lucy Bellwood have the last word.
Pictures:
Most of the pics today were of panelists, which will run when I write up the panels. Because I spent so much time in panel rooms or moving pretty briskly to and from those rooms, I didn't catch a lot of cosplay. I did see this rather magnificent dragon warrior, and a very impressive Taskmaster, but best cosplay has got to go to Ruby Rhod, who was absolutely perfect in the costume details, had the attitude (and the walk) down, and had amplified audio. It was green.
Panels to watch for:
Assuming I get a move on, I'll be going to the panel spotlighting Randall Munroe's about-to-be-released How To (10:00am, Room 4), and a session on comics in the classroom that will include Gina Gagliano (hey, she's here, flight's no longer delayed) and Mark Siegel, who are always smart and informed (2:00pm, at the Library). For those of you that don't want to make the trek out past the ballpark, may I suggest the panel on women making stuff in Hollywood and the push to parity? It's also at 2:00pm, in Room 7AB.
Finally, I would be remiss if I didn't note that at 1:17pm San Diego time (or 20:17:40 UTC), it will be exactly 50 years since the Eagle landed on the gosh-darned moon². And then at 7:56pm (02:56:15 UTC), it will be exactly 50 years since Neil Armstrong stepped onto the lunar surface (which, I will remind you, is on the gosh-darned moon). If possible, I recommend that you lose yourself in the replay at Apollo In Real Time; as I write this line, the crew are on lunar orbit 11/75, prepping the LM for detach and landing.
_______________
¹ It was my own fault. I ran into somebody I haven't seen forever and went in for a hug. Thing is, she's on the short side, and last time I saw her she was in heels. I bent over an extra 3-4 inches to compensate and when the embrace happened, things moved in ways that were once trivial and apparently are no longer tolerable. Worse, it was probably another five hours before I was able to get some ibuprofen onboard, so I spent the day aware of things not wanting to move or get jostled to any appreciable degree. It's much better today, but still going to be a day when I want to avoid incidental bumps or unthoughtful movement.
² And did you see that Marvel announced there will finally be a Squirrel Girl figure (just in time for the series to wrap up, grumble)? The sculpt looks amazing, and it comes with a Vespa and a basket full of squirrels.

Okay, the Best and Worst Manga of the Year. It's an annual panel with the same folks, and they come in for a lot of abuse during the Worst category, since taste is subjective and your worst is somebody's favorite (one panelist, I didn't catch who, presented a pick and stated he did so purely to provoke enough outrage that the crowd would shout for the entire 60 seconds and he wouldn't have to say anything). But, as moderator Deb Aoki pointed out, the average quality of manga in the West is leaps and bounds better than when they started the panel 7-8 years ago, so the Worst are objectively better than their counterparts in previous years.
Here's a list of the categories, and who picked what in each; it's just an info dump. Oh, and sometimes you'll see a panelist listed twice; Brigid Alverson was sadly unable to attend SDCC as scheduled, and so gave some of her picks to others. I'm just listing these in the order they came up.
Best New Manga For Kids
Rob McMonigal: Eden's Zero
Christoper Butcher: Beastars
Zac Bertschy: Our Dreams At Dusk
Deb Aoki: Witch Hat Atelier
Megan Peters: Samurai 8: The Tale Of Hachimaru
Christopher Butcher: That Blue Sky Feeling
Best New Manga For Grownups
RM: O Maidens In Your Savage Season
CB: Skull-Face Bookseller Honda-san
DA: Blank Canvas: My So-Called Artist's Journey
MP: For The Kid I Saw In My Dreams
RM: HP Lovecraft's At The Mountains Of Madness
Best Continuing For Kids
CB: My Hero Academia
ZB: Jojo's Bizarre Adventure: Diamond Is Unbreakable
MP: Radiant
RM: Bleach
DA: Ace Of The Diamond
MP: Ao Haru Ride
Best Continuing For Grownups
CB: Golden Kamuy
RM: City
MP: Chihayafuru
DA: Again!!
ZP: To Your Eternity
Worst, any age or category
MP: Seven Deadly Sins
RM: Mob Psycho 100
DA: Shibuya Goldfish
ZB: Rising Of The Shield Hero: The Manga Companion
DA: If It's For My Daughter, I'd Even Defeat A Demon Lord
Most Anticipated
RM: Cats Of The Louvre
DA: A Man And His Cat
CB: Metamorphose no Engawa
MP: Downfall
ZB: Roadqueen: Eternal Road Trip To Love
Most Wanted, Not Yet Licensed
DA: The Poe Clan
ZB: Maison Ikkoku
MP: March Comes In Like A Lion
CB: Even If I Can't Use Magic
RM: Junji Ito's Museum Of Terror
DA: Lupin III
Underrated
MP: My Hero Academia: Vigilantes
ZB: Captain Harlock
CB: The Drifting Classroom
RM: The Girl From The Other Side
DA: Emanon: Memories of Emanon