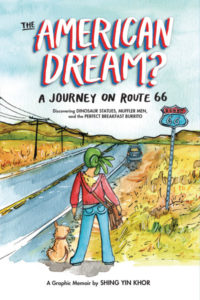 So the plan was to pick up a copy of Shing Yin Khor's The American Dream? A Journey On Route 66 Discovering Dinosaur Statues, Muffler Men, And The Perfect Breakfast Burrito and read it. Khor's work, as has been discussed on this page, is powerfully personal; their watercolors are capable of the most delicate filigree and the angriest rage, often simultaneously, and perfectly suit their stories. Plus, this one has at least four of their obsessions in it — dinosaur statues, muffler men, road trips, and a small adventure dog named Bug; it's been my most-anticipated book of summer.
But it wasn't in stock at the local bookstore. It wasn't in stock at any store I could find in the state of New Jersey via Indiebound¹, not in stock at Powell's, or The Strand, or even Barnes & Noble. At the time I checked, Amazon (who I will not buy anything from as long as an alternative exists) had eleven copies in stock. Eleven. As in, ten plus one, nationwide, on day of release. And none of those we-don't-have-it-in-stock places would take an order because they couldn't tell when the backorders would fill.
I mean, I suppose I could have gotten a copy of the e-book, but I believe I've made my feelings known on licensed media.
Somewhere between the publisher (Lerner) and the distributor (there's basically one left, Ingram²), there's just no copies that have made it to the retail end point — and based on a conversation I had with the publisher's sales division, it's probably the distribution end that is slow this time. See, I placed an order with Lerner's online store (which is really skewed towards schools and libraries from the look of it³) and then called to find out what the ship time would be (answer: probably about ten days, arrgh) and the very pleasant gentleman I spoke to told me we've got about 4000 copies in the warehouse, and it's not like they held onto every copy for themselves.
So as of this writing, if you want to get a copy of TAD?AJOR66DDSMMATPBB, your choice for copies-on-hand are Lerner, maybe Target (if you're interested in the library binding), or people on Ebay and Amazon's Marketplace that claim to have single copies (possibly advance review copies) at inflated prices. Oh, and if you're not opposed to Amazon? Too late. In the time since I started typing, they're down to nine (9) copies in stock, and by the time you read this they'll be out. Okay, okay, they've probably got the library binding edition. It's still Amazon.
On the one hand, this is great — people want to read Khor's work, and when the backlog in the pipeline finally eases, that demand will hopefully be promptly met. On the other hand, my bookselling experience (high school, plus summer breaks through college and grad school) tells me that when a book isn't available when people want it — and these days, especially for online order — they tend to forget about it. With any luck, readers who are just now learning about Khor's work will have the patience to make it through this rather distressing hiccup and be amply rewarded when the book comes out.
In the meantime, here's a couple of teaser pages, and here's an interview with Khor at The Beat, and you can buy a bunch of Khor's minicomics here. With any luck, when their next graphic novel releases next year (date TBD), it'll fare better on the logistics end.
PS: Five copies at Amazon, which is now listing it as #1 New Release in Teen & Young Adult Cultural Heritage Biographies.
---
Spam of the day:
Make money with your woodworking skills!
There was really no choice which spam to feature today, when I was talking about the Sawdust Bear. My woodworking skills are, by comparison, somewhere between nonexistent and pathetic.
_______________
¹ Except — maybe — a Hudson's newsstand in Newark International Airport, terminal C.
² The comic shop industry could probably have warned the book publishing industry about what having only one distributor means.
³ And which required I open an account to make a purchase which I hate, but not as much as I hate buying from Amazon.