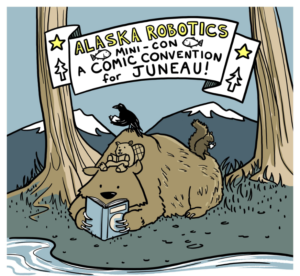 That would be the show poster for Alaska Robotics Mini-Con, which has announced more of the goings-on in and around the show on Saturday the 27th. To wit:
For those in town as early as Thursday the 25h, Chris Yates will be running a puzzle making workshop at the Juneau Makerspace, and Ryan North will be teaching you how to invent everything at the Juneau Downtown Library. Times for both TBA.
Friday features the traditional kickoff event at the Mendenhall Valley Public Library, with snacks at 5:00pm and the variety show (music, short presentations of Mini-Con exhibitors) at 6:00pm. This will follow a full day of school visits by creators, leaving no school unvisited.
Saturday will be the show itself, as well as a workshop on making picture books at the Alaska State Museum from 12:00pm to 3:00pm, and talks at KTOO and the Zach Gordon Youth Center; these will include drawing hangouts, a stop-motion animation rig, Sculpey monster-making with Shing Yin Khor, and talks by Kazu Kibuishi, Raina Telgemeier, Jen Wang, Gale Galligan, and Tillie Walden.
Speaking of Tillie Walden, I should note that the LA Times Festival Of Books named Walden's On A Sunbeam the 2018 Festival Book Prize winner in the Graphic Novel category. If you haven't read it you really should.
Speaking of awards, the Slate/Center For Cartoon Studies Cartoonist Studio Prize winners for 2019 were announced today, with the honors (and a thousand dollars cash money) going to Chlorine Gardens by Keiler Roberts (Best Print Comic) and Being An Artist And A Mother by Lauren Weinstein (Best Web Comic).
As previously noted, Nancy was nominated in the Best Web Comic category which remains a head-scratcher. It's still the best thing on the newspaper page in the past decade or more and if you aren't reading it you need to start reading it. That being said, congratulations to Roberts and Weinstein, and to all the nominees.
---
Spam of the day:
Open An Augusta© Gold IRA
No. Just … no.