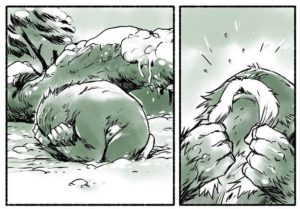 As mentioned last week, there have been two updates to The Abominable Charles Christopher a week's interval. It had been years since the strip updated regularly, and we at Fleen were only cautiously optimistic that a change was in the offing.
Welp, today is update three, and furthermore the first we've seen of the titular protagonist in two and a half years. I know that Karl Kerschl's work on Isola¹ may make this return irregular, but I believe we're likely past the sometimes years-long breaks in the story.
Now if we just get Luga back, then everything will be right in the world. No pressure, Karl.
_______________
For those with next Monday open, a reminder that the American Library Association is holding its annual midwinter conference in Seattle, starting this Friday (25 January) and concluding next Tuesday (29 January). A highlight of ALA Midwinter is the announcements of the Youth Media Awards, including the Newbery, Caldecott, and Printz awards, winners of which have been known to overlap with the list of Great Graphic Novels For Teens put out by ALA's Young Adult Library Services Association.
This year's GGNFT list includes Birding Is My Favorite Video Game by Rosemary Mosco, Brazen: Rebel Ladies Who Rocked the World by Pénélope Bagieu, Herding Cats by Sarah Andersen, All Summer Long by Hope Larson, Be Prepared by Vera Brosgol, Check Please!: Book One, #Hockey, various collected Giant Days by John Allison/Max Sarin/Liz Fleming, The Hidden Witch by Molly Ostertag, and On A Sunbeam by Tillie Walden. Look, I'm not saying one or more of these folks are going to get to describe themselves as Printz Award winners, but I'm not not saying it.
Anyway, the Youth Media Awards will be announced from 8:00am PST via live webcast. You should check 'em out.
---
Spam of the day:
for me it was a game changer when I found Rockwall and started investing with them my passive income started to grow much faster than before
I'm guessing you and I regard rock walls as very different things.
_______________
¹ Which is so good — beautiful, lush, willing to tell its story in its own time and to leave bits of plot and lore mysterious rather than to firehose all of it at us. It reminds me of Miyazaki's Nausicaä Of The Valley Of The Wind, a story which took twelve years of fits and starts to reach a conclusion, and which left more unsaid than said.