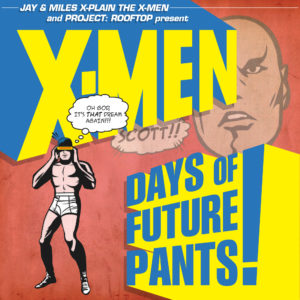 We see the return of a coupla' things today, one recent and one it's been a while.
Readers may recall Project: Rooftop, the superhero fashion website launched in 2006 by Dean Trippe and Chris Arrant to highlight the best in superhero costume/character design and redesign. The site's featured various art over the years, but it's been since Summer 2013 since there was a redesign contest — the once-regular highlight of P:R

Or rather, it was since Summer 2013, because the contests are back:

CONTEST ANNOUNCEMENT – X-Men: Days of Future Pants!
THE RULES:

Pick 2-5 of your favorite X-Men. They can be the team you've always wanted to see, your favorite line-up of the past, or just your favorite X-Folks to draw.

Design a core uniform. For this challenge, we're inviting you to redesign the base team look, the cohesive uniform that says they're a team, but as is often the case with a team of varied powers, abilities, and personal motifs, feel free to show individual members in personalized versions of that core uniform.

The teaser for the contest has to be seen to be believed — a Kirby-style Cyclops having that dream when Professor X summons you to battle for a world that hates and fears you and you're in your underwear¹. Or, uh, just look up top, it's right there.

If you think you can help Cyke (or other, better X-Men) never have to worry about a lack of functional, attractive uniform again, send your design to projectrooftop at gmail, which is a dot-com by 14 January. Judges (which appear to be Trippe, Arrant, and Jay Rachel Edidin & Miles Stokes (hosts of Jay And Miles X-Plain The X-Men) will be back with winners and commentary in February. Bragging rights await!

More recently, David Malki ! caught a case of Munchausen's elphatiasis² by proxy. Approximately 8 episodes into the 23 strip epic, I tweeted the following:


Oh glob, I just had a terrible premonition. Next year's @wondermark calendar by @malki is going to be 12 months of check out my sick elephant. And so help me, I'm going to buy it.

To which David Malki ! replied with denial:

Gary, Gary, Gary. You really think there will be meat left on this bone by the time the calendar rolls around??

Which, in fact I did, despite the Malki !dian scoffing. And I was right to believe:

Here are some pictures of the (presently in-production) 2019 Wondermark Calendar, Examining Ill Pachyderms: A Veteronorfian Field Guide.

For those not familiar, Malki ! produces a calendar each year, with beautifully printed cards for two-week periods, arranged in two rows so you can always see at least two weeks into the future³. And while this year's calendar will feature none of the strips from the recent epic, it will be an entire year of sick elephants.

For the recent epic, you'll have to purchase the book (at the same link, but be careful — some browsers don't offer the choice to get the calendar with the book, or the book on its own; Chrome- and Mozilla-based browsers seem to work okay, though) wherein the entire saga of The Elephant Of Surprise. I ordered my calendar before the book was announced, so I'll have to pick up a copy later — preferably when I can get Malki ! to sign it, at which time I fully intend to challenge him to come up with a new sick elephant pun. I am fearfully confident he will do it, too.
---
Spam of the day:
Latest hair growth released from the sharks
Sharks don't have hair. That's kind of the whole deal for mammals — hair. Sharks aren't mammals, so no hair. Duh. Get your fake hair growth psuedoscience right, email spammers!
_______________
¹ And visor, since it's Cyclops. Because of the visor, the dude is even more of a never-nude than Tobias Fünke.
² Look it up.
³ As opposed to a traditional calendar where an entire month is shown, and on the last day of the month you see exactly zero days of the next month until you flip the page. It's ingenious.