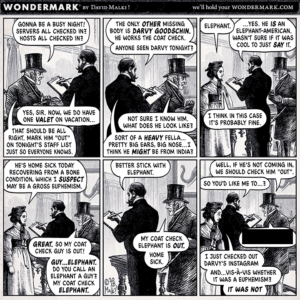 If there's one thing that we at Fleen enjoy, it's a running gag. There's Ryan North and the running gag that gets revisited every 1000 strips. There's the Final Fate Of RPG World, which was a running gag before this blog launched in 2005. There was the majesty that was #buttrocket, and our habit here at Fleen of both excessive footnoting and an unrepentant man-crush on Brad Guigar¹.
But I can't recall anybody taking something so pedestrian, so quotidian as a garden-variety Wondermark bit of random weirdness and spinning it into endless variations on a theme. Gentle readers, I invite you to consider the many variations of Check out my sick elephant!
Sick as in diseased, an emphasis on checking out, sick as in sick humor, sick as in gravely ill², sick as an excuse to work on the multiple meanings of trunk, sick as in falling apart, and a three-fer involving a previously sick elephant that becomes a thicc elephant, and finally provides a dad-joke inversion that I will not dignify with a transcription.
Responding to my fascination/horror at this strip, Wondermark creator David Malki ! promised/threatened more. Should you see him this weekend at XOXO Fest in Portland³, please convey to him my heartiest congratulations/condemnation.
---
Spam of the day:
We found your next girlfriend today, she is sexy, naughty, pretty and she made a very sexy video message that you need to watch.
So wait, she's thin but not too thin, has a big rack, hips but not baby-having hips, and is sexy but not in a slutty way?
_______________
¹ He's dreamy.
² Gravely, I see what you did there.
³ Other webcomics types in attendance or at least walking around: the aforementioned North, Lucy Bellwood, Shing Yin Khor, Erika Moen, Blue Delliquanti, Taneka Stotts, Graham Annable, Lisa Hanawalt, Matt Furie, and MariNaomi.
Numerous other webcomicky (or at least webcomics-adjacent) folk will be across town at Rose City Comic Con, including Matt Bors, Molly Muldoon, Barry Deutsch, Jennie Breeden, Indigo Kelleigh, Kel McDonald, Kerstin La Cross, Kory Bing, Rebecca Hicks, Lucas Elliott, various members of Helioscope and artists associated with Nucleus, for some reason the US Navy, and Katie Lane.