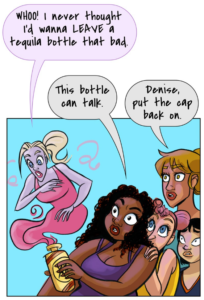 It's tough times, friends, but there's always little bits of humor, hope, and a third thing that starts with h that I can't think of at the moment. Let's dive in.
Via my onetime sporting bet nemesis, news that the Multiplex 10 short-inspired and Multiplex 10 web series will continue … with your help:


Since January, we've produced NINE videos in all (plus a couple of promotional things like the pitch video), with a tenth on its way in the next week or two.

If we meet the $20,000 base goal, we can afford to produce at least TWENTY minutes of new animated content—(at least) FIVE new episodes of Multiplex 10: The Web Series and (at least) FIVE new movie reviews—to be released every one or two weeks, starting … well, as soon as possible. Minus approximately $1,800 for payment processing and Kickstarter fees, the base goal translates to a little over $900 per minute for design, animation, voice acting, sound, and music.

That is super cheap for animation; in fact, it may be below the theoretical lower limit for animation costs. Details at the Kicker, do consider helping.

Via Comic Tea Party, the book club/discussion group/movable colloquium, a survey about comics and your habits in reading them. I'm very eager to see the results, so take a couple of minutes and let them know how you're interacting with indie-slash-web comics, which you can do at the Google Form.
Via she's been on hiatus for too long, welcome back to regular webcomicking, Danielle Corsetto dropped some news when I attended her Q&A in Philadelphia, part of her Big Ass Book Tour. She's partnered up with Monica Gallagher to do a new webcomic that has as its focus providing solid sex info to young people that would otherwise not get much (or, sad to say, any truthful) sex education. The focus of the strip will be some recent high school grads learning how their bodies work.

And, because it's Corsetto, the learning will come courtesy of the dead sorority girl haunting a bottle of tequila in their house.

BOO! It's Sex launches today on Webtoons, with the first five episodes. Gallagher's art is crisp, Mae Keller (who joins on the fifth episode) adds colors that do exactly what they're meant to do (make the art pop without drawing too much attention to themselves), and Corsetto is just getting down to the facts as the fifth episode wraps. Time to learn about the clit, kids! At least, we will starting Tuesday, as the strip settles into its Tuesday/Thursday schedule.

The only thing lacking? Corsetto admitted that she hadn't thought about including her paranormal investigator characters in BOO! It's Sex, but maybe we'll get a cameo down the line. Come for the possibility of Ghost Kitty, stay for factual information about sex, reproduction, pleasure, health, and consent.
---
Spam of the day:
Wish you could touch this ass? You can! CLICK HERE
Unless haptic feedback has gotten a hell of a lot better in the past week or so, clicking is a poor approximation to touching an ass.