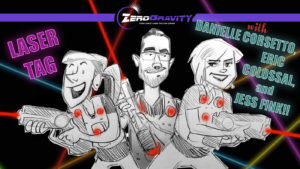 Know who loves comics? Dads. It's true! And as it turns out, there's a couple of comics-related things you can do with your (or as a) Dad, on opposite sides of the country! Choose whichever is closest to you!
On the Left Coast, our friends at the Cartoon Art Museum are so invested in your Dad having a good time, they're offering him free admission:


The Cartoon Art Museum is offering free admission to all fathers for Father's Day weekend with paid admission for their child or grandchild. Visit us at 781 Beach Street on Saturday, June 16 and Sunday, June 17, 2018 and enjoy our current exhibitions.

Those current exhibitions include a look at the MARCH trilogy by Congressman John Lewis, Andrew Aydin, and Nate Powell, and Jen Wang's latest, The Prince And The Dressmaker (with which I had considerable concerns, but read it and decide for yourself).

On the Eastside, Danielle Corsetto Heavy Book Tour starts at Philadelphia's Amalgam Comics & Coffeehouse tomorrow, with a Q&A at noon and signing until 4:00pm. She'll be spending the rest of the weekend and the early part of next week in transit and sharpening up her Laser Tag skills in anticipation of the Albany signing on Tuesday, with special guests Jess Fink and Eric Colossal¹.

The mayhem starts at 6:30pm at Zero Gravity FuntimeLaserPlace, 1240 Central Avenue, and will run you US$17 for up to three games of laser tag, plus the usual signing stuff.

BUT!

They need at least 22 people signed up (with a maximum of 30) and there are presently 14. You must RSVP so they know they have enough to make the venue happy, and you only have until tomorrow to do so. Hudson Valley folks, this is your moment to shine. Do not make Danielle haul those big-ass books all the way to Albany and then not get to shoot you with a laser.
Side note: Monday may not have a post; I have to travel for work, and as this one will involve a visit to Our Neighbo[u]rs To The North, and since Screamy Orange Grandpa is shitting all over Canada these days, I may be some time at Customs & Immigration.
Hopefully, relations between our countries do not deteriorate to the point that I needs be held as an enemy national … and if so, let me remind our gracious Canadian friends that I know The Toronto Man-Mountain and he can personally vouch for my good character. Thank you.
---
Spam of the day:
Hey sexy, its Christy Mack!! I added some topless photos just for you on Instagram
I don't know if the photos in this email are or are not of Christy Mack, but they are not topless. Also, doesn't IG pretty much ban topless pictures? Try harder, spammers.
_______________
¹ Whom I accidentally left out of my previous mention of the event.