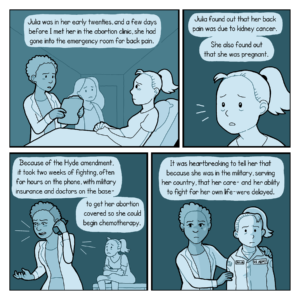 This is the official notice that there will be only a few postings next week, and most likely none the week after; I'll be going dark to accommodate my travel to beautiful Juneau, Alaska, for the Alaska Robotics Mini-Con (Saturday, 28 April) and the Comics Camp that follows immediately thereunto. A murdersworth of amazing creators will be there, and I'll have all the news when I get back in early May; if you're curious if you should attend Mini-Con and Camp some day, the answer is almost certainly yes; if you're wondering what the experience is like, I happen to have 10,000 relevant words.
Update: John Keogh is providing us with new comics at a deliberate — some might say sensuous — pace. Enjoy numbers 34 and 35.
Magnolia Porter, as this page has noted more than once, tells good comic stories. Monster Pulse is the most visible, but she was responsible for a goodly chunk of some video games, which offers a very different set of story demands. And today comes word of another project that's more different still.

Physicians for Reproductive Health have told the stories about people and their health care needs, and they've discovered that comics is an effective medium; they've partnered with Porter to produce a comics series titled This Is Life to accompany some of those stories. The first one concerns a young soldier who discovered her pregnancy the same time she was diagnosed with kidney cancer; the story is compelling enough, but distilling it down to four panels in Porter's open, approachable style focuses the narrative even further.

The compact nature of the story makes it easy to disperse via social media, and you can find this first installment on Twitter under the hashtag #ThisIsLife (which, quite frankly, is a bit crowded with messages; maybe search the hashtag specifically within the account?). These are going to be tough stories, and Porter is going to do them justice.
---
Spam of the day:
ALERT Bank Account Exceeded Login Attempts If This Was Not You Please Call Now, Your Information Maybe At Risk 1 855-261-6462
Motherfucker, my bank account name bears no relation to anything that identifies me, the password is maximum length, it requires a physical 2FA token, and I'm posting your identity-thieving number here so that people can call you up and give you shit. Sod off.