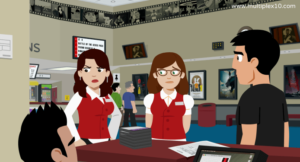 Get 'em while they're hot.
So Gordon McAlpin went and made a Multiplex short (the funding of which was mentioned in the beforetimes), and before we get to that, can I commend him on one thing? The Kickstarter in question launched on 9 April; between that day and when the campaign finished on 8 May, McAlpin posted more than two dozen updates on the project. Since completion of the campaign, he's dropped more than sixty progress reports. That degree of communication with backers is worth noting and emulating. Okay, back to where we were.

Judging from the topic lines of the updates (most of which are backer-only), the short is done, seeing as how certain backers go the early-access link a couple days before Christmas. Hooray, project successful, all done, right? Nah, that'd be boring. The campaign was just to get the first short done; now it's time to release the short wide, get shopped around the festival cicruit, and maybe make more. A very modest US$2000 (you read that right, two stinkin' grand) will:

[H]elp fund the film festival run, digital release, and promotion of the Multiplex 10 short film, in hopes of reaching the widest possible audience. Although the Multiplex 10 short film stands on its own, it was conceived as a pilot for a series, and reaching a wide audience will give us the best possible chance of producing more Multiplex 10 videos.

[O]ffer a physical copy of the short for existing (and new) backers who want them, and to sell at conventions, screenings, and other venues. And …

[I]f we can raise significantly more than the base goal, we can fund additional 2–3 minute Multiplex 10 webisodes, to be released free online. These webisodes will feature Kurt and Jason (and possibly some other familiar faces) talking about a then-current movie or facet of movie culture

As of this writing, there's 11 hours left and the campaign has passed the second stretch goal (US$4K), meaning that the USB cards the short will be sold on are 4GB instead of 2GB, and the first webisode will be made. At US$5K, the USB doubles to 8GB, at US$7K a second webisode gets added; at US$8K the USB doubles again to 16GB, and at US$10K a third webisode is produced. If you want to see any of these things happen, now's the time.

It's less than a month since we noted the up-wrapping and comprehensive collection-printing of Plume;; it's got another week to go on its crowdfunding and is approaching double its US$25K goal. Today, K Lynn Smith announced that since all the financial stretch goals have been met, there will be one more based on backer count.

1000 backers means that the book plate used for signing the omnibus edition (alas, the earlier single volumes don't qualify) will have a fancy spot gloss added to it; this is not something I've seen anybody do before, and it's a neat idea. Spot gloss and other fancy treatments get added to the covers of books, but this is a fancification that's like a secret between creator and fan.

Okay, that's probably stretching the point a bit, but it's a neat idea, and it may drive backers to up their pledges if they weren't getting the omnibus, so it's a smart way for Smith to push upsells. As of this writing, there are 903 backers and a bit more than six and a half days. Let's see if that count can go up by 11% in a week.
---
Spam of the day:
IT Degrees with SE
Okay, gotta ask — what in the world is SE? Because I'm being offered IT degrees with it, nursing degrees with it, local hot wives not getting enough sex from their husbands with it, knockoff Viagra with it, and credit scores with it. Whatever SE it, it's very flexible.