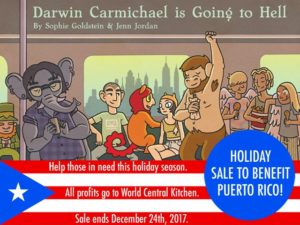 So if you want to know what the eff is going on with Patreon, we're all waiting to Jack Conte to make an announcement that will somehow clarify everything¹; in the meantime, please enjoy the report of one Mr Jephry Jacques from his talk with Mr Conte.
I would be remiss not to note an intriguing theory posited since I spoke to you last, as well as a killer observation from Jenn Manley Lee the indicates that Patreon may have screwed the pooch in the legal dimension as well.
Dammit, that's practically Day Four. Let's get on to other things.
I coulda sworn that I'd discussed Plume, a western-themed webcomic of considerable vintage, by K Lynn Smith, before. It appears not, except for a mention of participation in the Kickstarter Gold event; that's on me — it's a good read and I should have mentioned it previously. Seventeen chapters and nearly 500 pages over six years wrapped up in November, which means it's time for the omnibus print edition, Kickstarting now-ish. It's still Day One of the campaign and Plume is sitting at 50% funded, so I suspect this one will succeed.
Know who's awesome? Sophie Goldstein, that's who. Seeing the great need still present in Puerto Rico — literally months after being hit by two monster hurricanes — Goldstein has thrown a holiday sale on print copies of Darwin Carmichael Is Going To Hell. As noted previously, DCIGTH is a great story, and now each copy (going for US$25.00) will result in all profits (Goldstein tells us that's US$21.39) going to feed the hungry in PR via World Central Kitchen.

I find the fact that Goldstein is giving up 85.6% of the price of each book to be only slightly more impressive that the fact that she made a book that's worth every penny of the purchase price that has an 85.6% profit margin. That's some good businessin' there. Sale runs until 24 December, so get to clicking.
Okay, that's it for today. Let's see if the Patreon situation gets any less convoluted in the coming days.
---
Spam of the day:
Enjoy your retirement once again and let AAG help you with a Reverse Mortgage loan
AAG helped blow up the economy in 2008 so why the crap would I trust them? And why the crap-squared do you think I'm retired?
_______________
¹ On a side note, I have a bridge for sale.