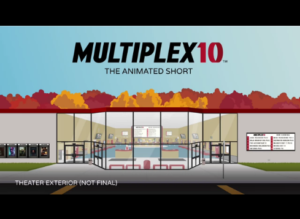 One of those endings/beginnings days, you know?
Gordon McAlpin¹ has been in the webcomic game as long as anybody, putting together a just about exactly 1200 strip archvie over (by a peculiar corinsidence) just about exactly 12 years over Multiplex way. It's been, to no small degree (and I mean this sincerely and without any malice whatsoever) the webcomics equivalent of For Better Or For Worse

That is, it's let characters age and grow and drift apart and come back together and sometimes leave never to return, with both the good and the venal prevailing at times, but always centered on the (in McAlpin's case, improvised) family at the center². And, like FBOFW, there is an end to such stories, even though we know the characters will go on. Through nine books, McAlpin has let his love of movies and his characters show in equal measure … and when you've got that much love to give, why not have a tenth book?

Multiplex (the webcomic) may have scrolled all the way to the end of the credits today, but there's a teaser that comes after; Multiplex 10 (the animated short, and perhaps trailer for more animation) will be part prequel, part reboot, and, I'm guessing, all awesome. But while webcomics are easy to put together and toss out on the web to find an audience, animation of any quality is hell of work, and not the sort of thing you can dash off in the spare hours of the day. Enter Kickstarter, and the crowdfunding campaign for MUX10, which went live a bit more than 12 hours ago and is presently a bit more than a third of the way to its US$15,000 goal.

There's rewards and an impressive list of collaborators at the campaign, but what I'm most impressed by is the fact that overfunding will go not to stretch goals, but into making a better film … and possibly even more episodes. Give 'er a look, and if you've ever enjoyed Multiplex during its original theatrical run, consider tossing McAlpin a buck or two, yeah?

Speaking of things finishing and restarting in other forms, this is your periodic reminder that our friends at the Cartoon Art Musuem are nearing their end of their time in the wilderness, and preparing to open in their new (hopefully permanent, but who can say with San Francisco real estate?) location. If you live in the Bay Area and wanted to tell CAM what a good job they're doing you have a chance next weekend at the Silicon Valley Comic Con at the San Jose Convention Center, 21 – 23 April. As far as I can determine, it's the only comic convention presented by The Woz, the ur-geek to whom all owe allegiance.
---
Spam of the day:
Expose someones past with this simple tool
Google?
_______________
¹ AKA The Nicknameless, having once been my sporting bet nemesis, but that was resolved long ago.
² Also in McAlpin's case, there's no requirement that you only ever marry the creepy dude you met in high school, the one with absolutely nothing to recommend him, and who brought moustachery into disrepute. Screw you forever, Anthony.