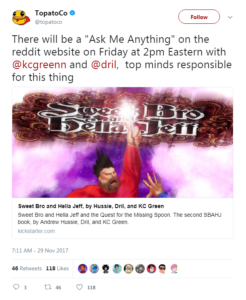 There will be a "Ask Me Anything" on the reddit website on Friday at 2pm Eastern with @kcgreenn and @dril, top minds responsible for this thing
This thing being the Sweet Bro & Hella Jeff book by KC Green, Andrew Hussie, and Dril, gods help us all. Oh, and did we mention? It's made goal and will be produced, gods help us again. All we can do is pray that a significant number of backers are actually jerkbag griefers who will cancel their pledges at the last minute for the "loolses". Then again, the worse act of trolling would be to ensure that this abomination is birthed into the world, we all helpless before its vile might.
Let's go across the ocean, far from the impending monstrosity, and see what Fleen Senior French Correspondent Pierre Lebeaupin is up to:
We know you are all interested in Marion Montaigne's latest, so you'll be happy to know In The Space Suit of Thomas Pesquet was released on November 24th. And while I don't think I would have been able to come anyway, I'm a little jealous of the journos who got to attend a launch press conference where the hero himself was present.
We at Fleen have been covering Pénélope Bagieu's Les Culottées (to be published in English as Brazen) for more than a year now, but all the while it was not possible to point you to a version you could read (which is what webcomics are all about) if you couldn't read French. Until now. The Lily News will run excerpts of the book leading up to its English publication in March 2018, so now you can finally see for yourself what the fuss is all about.
And if you can't get enough of French webcomics that (horror!) do not feature autobio or self-insertion, Jo is back! After the artist had to take an extended break, Jo resumed on November 6th. And it now features a set schedule: one update every first Monday of the month, so you can look forward to the next one this next Monday, December the 4th.
Everybody thank FSFCPL, because I read that excerpt of Brazen t'other day, and totally spaced on mentioning it here.
---
Spam of the day:
No one expects you to stop on your own – get addiction help
I refer you to the statement of one Mr Z Harris, 6 August 1973.