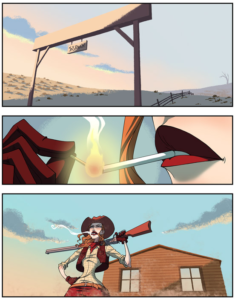 Hey, it's Friday. It's hot and disgustingly humid, and it's going to be a busy weekend before I have to fly off to Minnesota for a couple of weeks, but hey — imminent weekend all the same.
From the westerly climes, Fleen Offical Man of Mystery Eben Burgoon chimes in with a series of shows and a camp for aspiring comic creators. In case you were ever thinking of making a splash in web-/indie comics in northern California, you need to understand that Burgoon is the Man, and you can roll with him, but he better see some damn respect at the following:
From the land of fashion, revolution, cheese, and wine, Fleen Senior French Correspondent Pierre Lebeaupin has a report on a most unusual webcomic, in that it appears to be entirely usual for this side of l'océan Atlantique:


Today's recommendation is for Jo. Jo owns a ranch in the Old West, and that's where Alex was sent for her internship; but while some parts, like the hens, are "nothing special," the ranch is a bit unusual and that attracts some unsavory types, as Alex is going to find out.

Jo is remarkable for a couple of reasons. While in the French-speaking web «blog BDs» (comic blogs) dominate the form to the point of being almost synonymous there with webcomic, Jo is anything but: there is no author avatar, no autobio, no small stories, no fancy experiments. Instead, you get a solid, ongoing longform story.

Second, Jo features an interesting localization mechanism: the comic is in French by default, but you can hover over the images to read the English version (you might have to wait for a few seconds for the English images to load, but they always do eventually load).

Jo has just resumed from hiatus, and is so addictive you'll barely notice time passing while you catch up on it. Go now while the water's fine.

I've been doing this how long, and never noticed that every single French webcomic I've ever seen is essentially an exaggerated autobio and the damn near universal (in English, at least) story strip never once came up? It was right in front of my face, and I never caught on. Once again, our thanks to FSFCPL for the recommendation, and for closing up a gaping hole in our knowledge.

Regarding Jo, it's pretty, it starts off with a literal bang, and if mousing over doesn't kick in the English for you, click on the strip. The English translation, by the way, is very good, with only occasional awkward construction; Jo's archive is 50 strips deep, so it's the perfect time for a trawl. Oh, and if you weren't sure if it was to your liking, consider the description from the About page, which starts:

Jo est la cowgirl la plus badass de l'ouest

I think you probably worked out the meaning.
---
Spam of the day:
Looking for a a guy — I like you girl. find out who she the IS. Write ner, S is not is waiting for you.
Sure thing, Samantha … or should I say, Amanda@whofarted.ru? I'll get right on that.