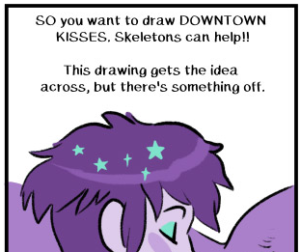 Well, I guess time continues forward at a rate of one minute per minute after all. Today being the first of the month, let me remind you that you have until 11:59pm EDT tomorrow, 2 August 2017, to email me a copy of your donation receipt to The Trevor Project, which I will match. Last time we raised US$500 in matching funds (rounded up from US$305) and I'd like to exceed that if at all possible this time around.
As of now, we're at US$360 in receipts sent. If I could make a suggestion? All of the super cool Kickstarts that you're backing right now? Pick one, and donate an amount equal to just the shipping charge. If just one out of every ten of you did that, we'd be into the thousands of dollars and my budget for the next month will be happily blown. I know that Fleen readers are, in general, the sort of people that would make Mr Rogers proud and happy. I know you've got this.
I didn't know how much I wanted a Jess Fink guest comic at Oh Joy, Sex Toy until I saw it. I don't think I've ever smiled as broadly as when I got to the panel that said, quote, SO you want to draw DOWNTOWN KISSES, followed by art tips to make oral sexytimes look better. Thanks, Jess, Erika, and Matt!
I confess, Chris Yates not boothing with Dumbrella for the comics shows the past couple of years means that I haven't kept as close an eye on his Baffler! puzzles as I should. He just released a tranche of new ones, bringing the total number of brain-numbers up to three thousand, nine hundred and thirty-six. As Big Round Numbers tend to bring out Yates's most extravagant work, look for the imminent Baffler! #4000 to feature about a dozen levels, multiple sub-puzzles, and a solving time measured in fortnights.
TCAF remains one of the very best shows on the continent, and it's never too early to start planning for May 2018. News went out today by means of the Twitter machine that applications will be open starting Monday, 14 August, until the end of October. My experience? Lots more people want to exhibit than the Toronto Reference Library can accommodate, so get your applications in early is my advice. Sign up for their newsletter if you need a reminder to check out the process rules come Monday after next.
Now you'll have to excuse me, I have to make a bookstore run to pick up Abby Howard's new dinosaur book, Dinosaur Empire!, which releases today. Heck, yeah.
---
Spam of the day:
Can't see tiny buttons? Get a senior phone
I'ma tell you exactly what I told the Medicaid scammer that called yesterday, thinking me much older than I am: I can see a church by daylight. Besides, aren't there enlarged button dialer apps for all the phones now?