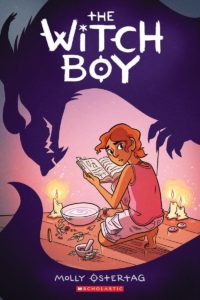 Thursdays, man. Thursdays.
But I would feel absolutely terrible if I didn't at least point you to some very good news for Molly Ostertag; we've mentioned the recent Kickstart for the second volume of Strong Female Protagonist and also the release of Shattered Warrior, two projects on which she ably handles art duties.
But Ostertag doesn't get to tell a story visually as well as she does — even when written by another — unless she's a hell of a strong story composer herself. Getting to write as well as illustrate a full graphic novel was just a matter of time, with Scholastic doing the honors in publishing the upcoming The Witch Boy (on, appropriately enough, Halloween Day). I haven't seen an advanced copy or anything, but I'm pretty damn confident that it's going to be great.
I'm not alone. Seems the development team at Fox Animation has similar opinions:
Fox Animation has preemptively picked up the feature film rights to The Witch Boy, an upcoming graphic novel by Molly Knox Ostertag.

[The] Witch Boy centers on 13-year-old Aster, whose family raises all their girls to be witches and boys to be shapeshifters. Anyone who dares cross those lines is exiled. The boy hasn't shifted, and he's fascinated by witchery. When a mysterious danger threatens the other boys, Aster knows he can help … but as a witch. With the help of a non-conforming friend, Aster will have to find the courage to save his family while also be true to himself.
I'm not sure what I'm more delighted by — that the gender metaphor will resonate in a bunch of 8 to 12 year olds, that the rights were obtained this early, or that it's Ostertag's solo debut. I've said it about other creators and it applies here as well: as good as Ostertag is in her mid-20s, I can't wait to see how damn good she'll be in her mid-30s. There are going to be some gods-damned amazing comics dropping every friggin' week by the time Scott McCloud's target year for a female majority in comics — creators and readers — arrives¹.
We'll include the obligatory disclaimer that rights/options/etc don't mean that anything will happen quickly (or at all)², but you know what? Fox had to write Ostertag a check. Her name recognition just went up, meaning that her next publishing contract negotiation just tilted a bit more in her favor. She wins, we get to read The Witch Boy no matter what, and it's a sunny day out. I'm declaring victory and going out to walk my dog.
---
Spam of the day:
Club Access LocalMILFsMHP Ad-Partner
On the one hand, Nnnnnope. On the other hand, I'm kind of curious what MHP stands for.
_______________
¹ 2024, according to McCloud. I'm on record that he was wildly pessimistic in thinking it would take that long, and pessimism is not a characteristic I normally ascribe to him.
² Given the current state of book challenges and censorship attempts, I can see a story about witchcraft and a boy wanting to engage in Girl Things will rile up the fundamentalist outrage machine. Bring it.