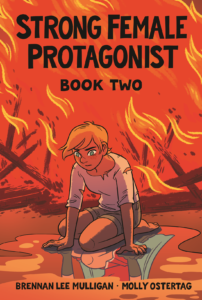 Endings and beginnings today, my friends. Let's see what's up.
It has been some time since we checked in on PostScript, the webcomics that asks what happens after Happily Ever After?, by brothers Graham and Neal Moogk-Soulis. Wonder what's going on over there …


We are proud to present Testing Day. Testing Day is simultaneously the final PostScript story we are posting here online, and the first of the larger PostScript stories we will tell.

Testing Day is but a taste of our future plans. You can expect further projects with greater narrative and visual complexity than the online strip format allows. They will not all be in the PostScript universe, they will not all be comics or picture books, and they will not all be funny, but they will be stories we hope you will enjoy. We know we will enjoy them.

Sounds like it's time for an archive binge; there's only about eight years worth of stories there, you can knock that out in a day or two¹. Coincidentally, that's just enough time to get prepped up, as Testing Day starts this Wednesday, 17 May, and runs weekdays until 1 June. After it wraps, The Brothers Moogk-Soulis will keep the site up, and you can follow news of their projects at PostScript, their twitterfeeds, and various other sosh–meeds.

Molly Ostertag is making quite the lot of comics these days, what with her art contributions to Shattered Warrior, due out tomorrow from :01², and her ongoing at duties on Strong Female Protagonist and her day job at Disney animation. All that life surely explains the delays on the second volume of SFP, which was supposed to Kickstart last summer, but you know what? I'll take comics that are done and good looking at whose production isn't grinding the life out of their creators over comics that are delivered according to my preferences.

And the wait has paid off: Book Two, y'all. The campaign's actually been running since I was in Alaska, but it's still got ten days to go, which means you still have ten days to get in on this. Book One ended on an emotional turning point; Book Two is only going to get deeper into that particular narrative well; even better, this volume will feature Ostertag's art in full color, which was always necessary to let her bring life to Brennan Lee Mulligan's words. And if you're like me and can only read SFP in big, chapter-sized chunks, getting this book will be a particular treat.

Hey, you know what today is? The first day of Octopus Pie's eleventh year. Yep, yesterday marked ten years of Everest "Eve" Ning's evolution from moderately adrift twentysomething to reluctant adult; ten years of watching characters grow (up and together and apart again) and change, never in a contrived way, every last damn strip better than the one before it.

And the strippiversary is just in time for the big wrap-up and whatever Meredith Gran has cooking in her brain for the next project. I loved Octopus Pie from the first strip, and considering how much better it's gotten in the past decade, I can only imagine how good future comics from Gran will be, but that's for later. For now, send her some good wishes if you haven't already.

And, because in any list of [web]comickers Jim Zub always comes last³ what might otherwise be the lead story today: Zub's Wayward — although he'll be mad at me if I refer to it as solely his, what with the contributions of artist Steven Cummings, colorist Tamra Bonvillain, letterer Marshall Dillon, and cultural commentators Zack Davisson and Ann O'Regan — has been optioned for TV.

We've mentioned the rules of options here at Fleen before … this doesn't mean that Zub is suddenly fabulously wealthy, or that anything will happen on a set schedule. Manga Entertainment gets the right to try to develop a series (live action or animated, it appears to not yet be determined) for Japanese TV; they may or may not accomplish this.

What is unusual about this announcement is that Zub and Cummings are specifically named as creative consultants on the project, including development of the initial story treatment along with character and creature designs. That doesn't happen so often, and say that Manga Entertainment may be more concrete in their plans than many option deals turn out to be.

Congrats to Zub, Cummings, and the rest of the Wayward crew; it's always great to see good work recognized, but it's even better to see good creators rewarded with cash money.
---
Spam of the day:
Extra 70% Off Ends Soon
Curiously, I am not much in the market for women's casual wear from Polo Ralph Lauren.
_______________
¹ Assuming you don't sleep or go to work, that is.
² Short review: it's good; writer Sharon Shinn has done something pretty amazing in making you understand what leads an ordinary person to become a revolutionary (or, depending on your point of view, a terrorist), as well as making the point that entitled PUA Nice Guys™ aren't restricted to the human male.
³ Damn you, alphabetic norms!