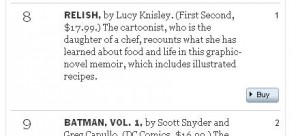 But even here there must be some encouraging news, yes? Yes.
Encouraging News The First: Lucy Knisley's latest book, the absolutely stellar Relish, has made the New York Times graphic novel bestseller list, debuting at #8. For reference, that puts Knisley above Batman¹.
Encouraging News The Second: Sometimes I'm shocked about what I look back and find that I haven't written about on this page — particularly when I'm convinced that I did at some point. For example, PostScript, by brothers Graham and Neal Moogk-Soulis, which deals with what happens to fairy tales after the happily ever after part². Five years they've been at this, and I haven't mentioned them until now? Bad hack webcomics pseudojournalist!

Anyways, Los Bros Moogk-Soulis are celebrating with a site redesign and a fifth print collection, and debuting it next weekend at the Calgary Comic & Entertainment Expo. Oh, and comics; many, many fine comics. Should you see Neal and Graham on the wide prairie next weekend, give 'em a big high-five and strongly consider picking up their books; there's some good stuff in there.
I don't know about you, but I'm feeling better now. Let's hope that all the crap that's been foisted on us this week sees fit to stay there as we move forward together.
_______________
¹ Also the still-there-after-56-weeks Smile by Raina Telgemeier, hanging in at #10. I'm not sure that book will ever fall off the list.
² Not that happily ever after is how fairy tales always end; my favorite is the Polish ending that I recently learned about, where the storyteller states … and I was there too, and we drank mead and wine.