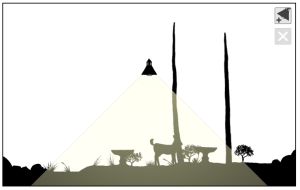 Welp, we know why there wasn't an xkcd on Friday; it's because Randall Munroe was getting ready to unleash one of his toys on us in the form of xkcd #1663, a slow-moving utterly unique garden simulation where you get to position lights (including color and beam width) and see what grows. It may take hours to see stuff pop up, and no two runs will be the same. For reference, that image up top is from a stock reset of the toy, no messing, after about two hours.
It will take approximately forever to determine all the mechanisms of Garden, but right now it appears that yellow light is required for the short shrub-trees, tall spires, and birdbaths; blue light appears to be necessary for octopuses. Oh, and whatever browser glitch that caused my three-lamp, three-color, balanced layout to reset itself back to stock: you suck.
The rest of this post is the first part of Fleen's roundup of this weekend's MoCCA Festival, which I attended on Saturday.
More on MoCCA 2106 tomorrow!
---
Spam of the day:
Commodities' "Head-Smashed-In"
I hope that this has something to do with putting commodities barons on the receiving end of the famed Head Smashed In Buffalo Jump and reenacting how it got its name.
______________
¹ After a 20 minute wait in the rain; give a venue security dude a short haircut, suit, and an earpiece and he's gonna be forcefully shouty when he announces attendess have to leave the vestibule. Which on the one hand, fine, I can absolutely see that having the entrance crowded directly in front of one of the fire exits is an issue.
But on the other hand, it would have been much better to go with Ladies and gentlemen, I'm very sorry, I know it's raining, but the City won't allow us to have you stand here in front of the fire exits. If you're not an exhibitor, please line up along the side of the building and try to stay dry instead of Attention, listen up, you have to leave the building now, unless you're an exhibitor. Nobody is getting in until you all leave; you must line up in that direction [hand stabby gesture towards the USS Intrepid] now.
That second bit is not an exact quote, but I believe it captures the tenor of the announcement accurately.
² Which featured lots of natural light and roof access; on the other hand, the Chelsea site had a small footprint and required the use of a tight, steep stairway to navigate the upper three floors. MetWest only had two floor, and it was more spacious set of stairs, so that was nice.
³ The owner of the Torani company — they make all those flavored syrups you see in coffee bars — missed Amer Picon, so he came up with his best-effort recreation, which is the only alcoholic offering of the Torani company.