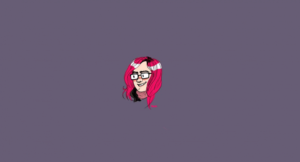 And the dearth of news is hitting hard. Plans are being made for festive fun times — whether that's Chanukah, Christmas, Kwanzaa, New Year's Day, or the premiere of Star Wars 3.5, everybody's got somewhere to be in the next fortnight. Deadlines are coming on fast for ordering stuff if you want it in time to wrap and give as a gift (for example, TopatoCo's judgment of shipping realities is here, and they've been at this a long time and have things down to a science; other shops may not be able to get stuff to you as well). The Best of lists haven't come out yet, the world is still a mess¹, and it's a slow news day. There's gonna be more of these until after the first week of the new year, I suspect.
But there's a nice chunky read for you over at The Beat, where Alexander Lu talks with :01 Books Executive Editor Calista Brill (Part 1 is up now, Part 2 is due sometime today). I'd describe Brill as the secret weapon of :01, except:
She's not a secret
Pretty much everybody over there qualifies as a secret weapon, in the sense that they're all indispensable, do their jobs quietly, and are super-effective
It says something about :01 Books and the culture that Mark Siegel has put together that the core staff of eight or nine years ago is still there (except for book designer extraordinaire Collen AF Venable, who only left because another publisher offered her an art director job … and she's still at :01 as an author), and I suspect will be there unless they get head-hunted to head up imprints elsewhere.
They're staffing up and expanding their publishing pace (roughly doubling both) without sacrificing their famed quality, and Brill's discerning eye (with respect to both acquisitions and improving books) is a big part of why they're succeeding. Go read about somebody that works hard while enjoying the crap out of her job, to the benefit of all of us.
---
Spam of the day:
shoes are a breeding ground for fungus
I guess that's why you're trying to sell me knockoff designer handbags instead of knockoff designer shoes?
_______________
¹ Which is why I should issue a periodic reminder about the Fleen Fight For Fungible Futures Fund² and how we're still matching donations. I know a lot of you creators are doing similar things, and I will absolutely match your own efforts.
² Thanks to faithful reader Roo for the suggestion that prompted me to decide on a name.