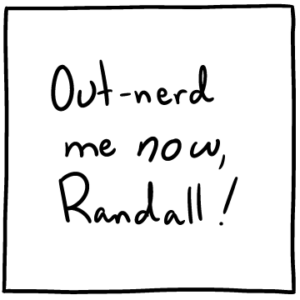 Possibly also bad, and maybe stupid¹. There's loads of things going on. To wit:
---
Spam of the day:
1 Weird Trick to Regrow Your Hair in 60 Days (it works!)
and
??ir falling out? Want thicker, healthier hair?
Whatever else may be true about me, whatever my sins and shortcomings, I legit have a head full of thick, magnificent hair. I have for reals gotten compliments on it from strangers. If I use either your weird trick or your Keranique™ treatment, I fear it may turn into a replay of The Beard.
______________
¹ I'm tempted to distill it down to the Zappaesque Dumb all over, an' maybe even a little ugly on the side, but then I decided not to. PS: Hi Brett and Rich.
² Case in point: most recent strip, which I suppose may be the last.
³ Sure, Weinersmith regularly goes from single panel to a dozen or more, but this is waaaay outside his usual length. Previous similar atypically long single comics: 50 states, 50 slogans, any particular installment of Ducks.