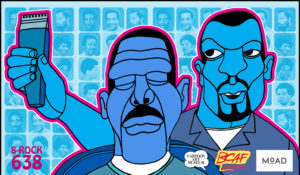 I think today is a beautiful day for stomping sharing with you the latest programming notes for the Cartoon Art Museum, who though they currently lack a home of their own, have not let that fact dissuade them from engaging in educational programs of their own, and in conjunction with other San Francisco cultural institutions. They're basically unstoppable comics-and-culture machines.
They've got a return visit this time, as Ajuan Mance (previously a cartoonist-in-residence at CAM) is going to have a conversation with Shawn Taylor at part of SF Comics Fest. This particular discussion will cover Mance's latest projects (cartooning, writing, illustration, professing English at Mills College, and is presented jointly by CAM, Black Comix Art Festival, and the Museum of the African Diaspora.
They should have plenty to talk about, what with Mance's rise in profile of late (she was the Guest of Honor at the recent 2016 San Francisco Zine Fest) and her ongoing (nearly concluded, in fact) 1001 Black Men project. If you'd like to be a part of the conversation, it'll run 6:30pm to 8:30pm on Wednesday, 2 November, at 685 Mission Street (at Third) in San Francisco. It'll run you US$10, US$5 for students and seniors, or free if you're a member of CAM or MOAD; admission will include access to MOAD's exhibits and a brief reception with Mance after the public program.
Honestly, this is the best kind of work that CAM does — partnering with other institutions that don't have comics as their main focus to broaden both constituencies. Popular perception of comics in America skews very white, and African-American culture has long been perceived to concentrate in certain areas (music, oral traditions, "outsider" art) to the point where contributions to areas like comics may not be fully appreciated.
By seeking out areas of intersection with underrepresented communities of creators (CAM has especially brought focus to queer creators and comics), they expand what all of us think about capital-a Art in general and the comic arts in particular. Good on them, and if you're about the Bay Area next week, drop in and give a listen.
---
Spam of the day:
Adult dating, the best girls from your city
and
SEX DATING: Seeking a man to meet.
Curiously, these come from the exact same return address, and feature the exact same 24 – 27 year old "hot singles in your area that want to sex you". Could it be that this is an exaggeration?