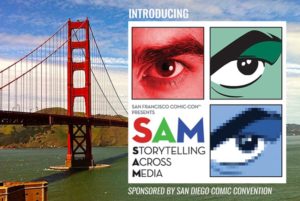 But still plenty day-ish, you know? I mean, what's up with seeing five-bar wifi signals all over an office, but only being able to connect when sitting in one particular chair? Somebody's messing with me. So let us move onwards and put this whole unpleasantness behind us. And quickly, too, as I shortly get to subject myself to the greatest Transportation Hell this side of the fabled I-95, namely, the United terminal of O'Hare International. At least they have a dinosaur.
We hinted at the San Francisco Comics Fest a couple of days ago, and seeing as how San Francisco is also home to the Cartoon Art Musuem, I figured you'd want to know more about where the two intersect; too bad if it's not what you wanted to know. Today you get to learn about Storytelling Across Media, which is a free one-day symposium produced in association with San Francisco Comic-Con¹, capping off the Fest with panels and workshops covering comics, gaming, animation, movies, and other media. The Fest itself starts next Wednesday (2 November), with SAM occurring on Saturday (5 November).
SAM is free and open to the public, but space is limited and you're better off registering online to reserve your place. Programming starts at 11:00am and runs to 6:00pm, at the Marriott Marquis on Mission. The full list of guests and participants is has some damn impressive credentials associated with people who aren't necessarily household names; for example, how many of you could identify the supervising animators on The Iron Giant? I couldn't, and I love that movie, but you can bet I'd attend the hell out of a spotlight panel on any of them (Stephan Franck, in this case).
The programming list has at least one must-see panel every one of those seven hours, and frequently more than one in conflict. Click on the More Info button next to any panel description to reserve your place, but be aware — some are shown as sold out (including — encouragingly, the session on Diversity And Representation In Storytelling). Go, enjoy, and report back so that those of us in other parts of the world may share in the positive aspects of comics.
---
Spam of the day:
Revolutionary smart home accessories are here. Enjoy Wi-Fi enabled devices that keep your home safe brought to you by the Verizon Accessories Store.
You're actually trying to sell me — me, who has a long, painful history trying to get Verizon to make a proven, perfected, 140 year old technology not suck — on Verizon's Internet of Things garbage when IoT is behind the entire damn internet falling over last week because they're unsecurable shit? And pitching it as a way to make my home safer? You're either insane or tripping all the balls.
_______________
¹ Not to confused with the previously-mentioned San Francisco Comics Fest. SFCC is a production of Comic-Con International, who also put on San Diego Comic Con and Wondercon.