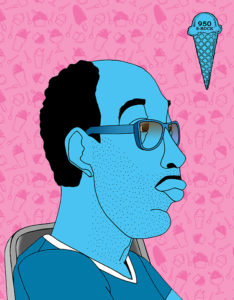 Let's check in with our friends at the (somewhat vagabond) Cartoon Art Museum, since the lack of a permanent exhibition space doesn't slow them down. Three things from them about the next while that you may be interested in.
This Saturday, 11 June, their Cartoonist In Residence¹ will be Ajuan Mance: artist, English professor, destroyer of stereotypes, and actual person that most sounds like the head of a great House from Game of Thrones². The residency will be at FLAX art & design store's location in the Fort Mason Center for Arts & Culture, from 11:00am to 2:00pm; details may be found here. And after her public residency event, Mance will be headed over to Comix Experience on Divisidero Street from 4:00pm to 7:00pm to continue the conversation. Both events are free and open to the public.
Next Saturday (18 June) and Sunday (19 June), the Queer Comics Expo will be running at the SOMArts Cultural Center from 11:00am to 5:00pm, and they're partnering with the Cartoon Arts Museum for some unique ticket packages. Purchases at the VIP levels (Unicorn: US$65; Double Rainbow: US$101) will include admission for the weekend for two or up to four people, respectively, and include a one-year CAM membership (single or family, respectively).

There's also a unique (at least, I've never seen it before) Pay It Forward ticket that for US$10 allows you to fund a weekend ticket that will be passed to a Bay Area LGBTQ nonprofit so people who otherwise couldn't go get to attend. Finally, all proceeds will benefit CAM, so Bay Areans take a look at this one, yes?

By partnering with the American Bookbinders Museum, CAM will be offering its traditional summer Cartooning Boot Camp: four sessions (two hours per day, Monday through Friday) will cover a specific topic, for a small group (up to 15 campers) of 10-15 year olds (those younger or older will not be admitted. The four sessions will be:

Materials are included in the US$135 fee (but naturally, students may bring their own sketchbooks and supplies if they wish), and CAM members get a US$35 discount. Registration and detailed descriptions at the links above.
---
Spam of the day:
Sneakier Gtyrrell cPurchasegTabuOnliner ;) unpublished
I'm reminded about that line in Blazing Saddles about authentic frontier gibberish.
______________
¹ Yes, yes, the residence is borrowed space, but that's what these things are called.
² Seriously, that is a great name one that's going to stick in my head. I've encountered maybe three people with names that have reached out and demanded my attention to that degree in my adult life.