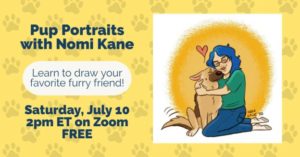 On the one hand, I hear that Donald Rumsfeld is dead, which means that Death is walking his shots ever closer to Kissinger. On the other hand, it is hot as balls out, miserably so. On balance, I'll call it a net positive. Let's move on.
Remember about five-six weeks back and how the Billy Ireland Cartoon Library & Museum is hosting a retrospective of dog-themed cartoons? There's been some events added to The Dog Show for next weekend that you might want to look at:
Saturday, 10 July at 2:00pm EDT, Nomi Kane will be hosting an online seminar on pooch drawing. What are the basics of cartoon dogs? What details can be added to make your best friend's doodle different from all other best friend doodles? If you've got a computer and an hour, you can find out! Have paper and pencil ready, and families are urged to attend together, with advance registration required (hit the link).
Sunday, 11 July from 1:00pm – 4:00pm EDT, if you're in Columbus, you can come down to The Billy, where Hilary Frambes will be doing sidewalk chalk art of very good dogs (who are welcome if on leash). Register here so they have an idea of how many folks to expect, and if you're outside, The Billy's galleries will be open until 5:00pm, just saying.

The rain date is Saturday, 17 July, same dog-time, same dog-sidewalk (yeah, okay, that sounded better in my head).
Oh, and because the folks at The Billy want everybody to be able to participate, a reminder: If you require an accommodation such as live captioning¹ or interpretation², please email libevents, which is an account at the Ohio State University, a dot–educational institution, as soon as possible. Requests made less than a week in advance will be more difficult to meet, although they'll make every effort; if you give them enough notice, you're pretty much assured of the assistance you require.
---
Spam of the day:
Hi there are many girls here https://[nope!].co/fN5R
As of 1 December 2020, there are approximately 488 people in a square kilometer in New Jersey³, 23.5% of which are under the age of 18, and 51.3% of which are women. There are many girls everywhere I look, and that's without clicking on your virus-riddled link.
_______________
¹ More for the Zoom event, you can't really caption somebody drawing on the sidewalk.
² I imagine they'd be able to work that for either event.
³ Which is also home to more scientists and engineers per square kilometer than anyplace else in the world. In your face, rest of the planet!