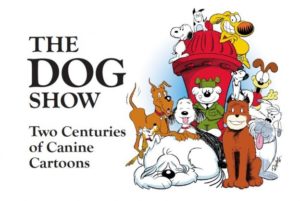 The relaxation of restrictions for those who are fully vaccinated¹ means that centers of comics scholarship are beginning to make programs and exhibitions available again. The two premiere such institutions are the Cartoon Art Museum and the Billy Ireland Cartoon Library & Museum; they've both been extraordinarily responsible about their re-openings², and each have things going on/coming up. Let's talk.
Starting in Columbus, Ohio and The Billy, a new exhibit will open on 19 June and run through Halloween (coincidentally, the same timeframe as the second half of their Pogo retrospective), and it's on a topic that is likely near and dear to your heart. The Dog Show: Two Centuries of Canine Cartoons will be curated by comics historian and cartoonist Brian Walker.

Before you get the idea that he's a second-generation guy who only got a syndication gig with a zillion newspapers by inheriting it from dad³, I mean, he is, but he's also a legit historian. I happened to be in Brussels when the Comics Art Museum was running an exhibition he curated on 100 years of American comic strips, and it was really good.

He's got an encyclopedic knowledge of newspaper strips, and if you're going to do an exhibition on any particular topic drawing from that medium, he's going to be one of the go-to experts to mount the show. Sure, the description talks about editorial cartoons, comic books, magazine gag strips, animation, and more — they'd be almost hilariously short-sighted to not include Dav Pilkey's Dog Man, f'rinstance — but the show art clearly focuses on newspaper strips. Finally, Odie gets his chance to shine without that lasagna-swilling bastard stealing the spotlight.

And over in San Francisco, CAM is offering a free online event this Sunday, 4:00pm PDT, talking about the cartoon counterpart to dogs. Kitty Sweet Tooth: A Conversation with Abby Denson and Utomaru will bring Denson (writer) and Utomaru (artist) together to talk about their new graphic novel for younger readers (available everywhere from First Second).

The online event will involve a reading, drawing demo, and more; registration for the online event is required but free, and those who purchase a copy of Kitty Sweet Tooth via the registration page will get a bookplate signed by Denson and Utomaru. In the meantime, check out Utomaru's website (linked above) — the art hits the exact middle point between Harajuku street fashion, Hello Kitty, and Scott Pilgrim — bright, a little chunky, always something else to catch the eye, no matter how many times you look at it.
---
Spam of the day:
[moneybags emoji x 2] The approval was successful. Hello. Hired you on the Internet.
Those are some of the most terrifying words I've ever read.
_______________
¹ And, in parts of the country, the more reckless relaxation of all restrictions.
² CAM is open to the public Saturdays and Sundays with capacity controls. The Billy is open by reservation on weekends (Museum part, but presently closed until 18 June) and by appointment for limited weekday hours (Library part).
³ He is a part of what Josh Fruhlinger has dubbed Walker-Browne Amalgamated Humor Industries LLC in recognition of the fact that Mort Walker (Beetle Bailey, Hi & Lois) and Dik Browne (Hi & Lois, Hagar The Horrible) were close collaborators, a tradition that extends to their respective sons.