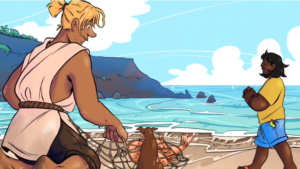 One of my favorite things to do is to match up readers with folks whose work might otherwise go unnoticed. I mean, sure, I loves me some Charles Christopher out of all proportion, but not all comics worth my attention (and yours!) come from Karl Kerschl¹. Let's take a look at a couple of them.
Payton Francis does comics out of the Twin Cities; a big part of her work is fantasy, and the other big part of it is featuring as many adorable LGBT+ characters as possible. Help Wanted is a modern story, and Wola (Francis does art; words by EC Ibes) has plenty of modern signifiers (industrial shipping, folding aluminum chairs) but simultaneously a mythic set of trappings; they've both got a bunch of heart.

Oh, and Wola is presently Kickstarting its first print collection, which has already surpassed goal and thus is a sure thing at this point. Come for the enticing art, stay for the friendshipping, as the first five chapters — more than 200 pages — get printed in full color for only US$25². And, once you read the book, you can pick up with Chapter Six, which started at the beginning of June. As of this writing the campaign runs for another 69 hours (nice), so hop on over and give it a look while you've got the chance.

I'm pretty sure that's the first time we've mentioned Francis on this page — an oversight, surely, especially given her very assured and very varied character designs — but we've mentioned Eben Burgoon a buncha times. Although the wrapping up of Eben07 forever ago robbed this page of one of its favorite running gags, Burgoon has done bunches of stuff since then. Most recently, Tiny Wizards — 10cm tall magic dudes working in a remote truck stop's food service. It's been around for a couple of years and Kickstarted a collection, which is now available for all.

Tiny Wizards #1 — Lord Of The Onion Rings is going to run you US$14, consists of 64 pages of full-page painting, and is very likely the first book ever to be mentioned on this page with a suggested age rating of — quoting here — 10 and under. Indulge your inner child and give it a look.
---
Spam of the day:
RE: TRACKING NUMBER N° CS476903738
You think your DHL tracking number click here bullshit should featuring a bunch of my non-existent Disney+ subscription is suspended click here bullshit graphics? I think y'all might be a bit confused.
_______________
¹ To whom I profusely apologize, as I just realized that I have missed — by more than six months — the 10th anniversary of the greatest single comic strip in history: Squirrel-Chew.
² The amount of comics and the print quality you get for an extremely reasonably price is one of my favorite things about the current Golden Age of comics we're living in.