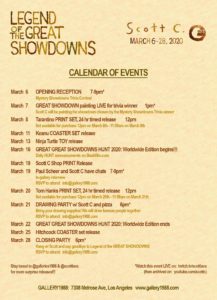 I think we could use a little chill these days; what with the world's single most gleefully vindictive ignoramus in charge of our country's response to an incipient pandemic, chill sounds like a good idea.
Few people that I've met are on a more even keel, less perturbable than Scott C; very nearly all of his art conveys a feeling of just take a deep breath for a moment, no need to get all excited, even when the topic is the most spectacular of spectacles. Mr C's been working on several projects for a while now, we haven't seen as many Great Showdowns as in the past, and fans are hungering for another collection.

So Gallery 1988 (which, along with Nucleus, is the place for modern takes on pop culture) is have a weeks-long celebration of Scott C:

With the HIGHLY anticipated return of the Great Showdowns exhibit from @scottlava opening on March 6th, we're excited to share the calendar of events for the show. It's action-packed and unlike anything we've done before. Get ready for the true Showdowns experience!!!

Events include an opening reception on the 6th from 7:00pm to 9:00pm, complete with a mystery Showdowns trivia contest, a Scott C painting for the trivia winner (livepainted on the 7th at 1:00pm), limited edition toy and print releases, a daily scavenger hunt, a drawing party with pizza, and a closing party. Whew! See the graphic up top for all the stuff going on, and keep an eye on the exhibitions page at the G1988 site for details.

Know who else just surfs through a sometimes turbulent world on a wave of comics, sometimes from one far corner of the globe¹ to another? Eben Burgoon. He was the inspiration of one of our earliest running gags here at Fleen, he holds down the fort of comics-making and evangelism in the Sacramento Sector, and he makes a habit of not only keeping me up with his goings-on, but also those of current and former collaborators. To that end, I received an email:


D.Bethel — the illustrator and co-creator of Eben07 — has been making his opus of a webcomic in Long John. It's a western-genre comic that focuses on a revenge story about a gunslinger left to die in just his long-johns by his former gang.

Burgoon undersells the premise a bit, but he's absolutely right that Bethel has constructed a slow-burn story that reveals itself in a deliberate manner, much like a classic '60s splatter Western. And Burgoon himself is collaborating with Dean Beattie on Tiny Wizards, about french-fry sized wizards doing their wizardly battles as they struggle to survive in a sea of fast food joints in a road-side truck stop in the middle of nowhere.

Remember what I said about mundane magic in a regular world yesterday? Magic hidden in the most ridiculous way from plain sight is also a great premise, and I'll be interested to see how it turns out. In the meantime, I've seen a sampler that Burgoon sent along, and Beattie is channeling Skottie Young's work on I Hate Fairyland; your enjoyment will depend on the answer to one question², which if you opt for the affirmative, you should definitely check out the Kicker³.
---
Spam of the day:
Military Source Exposes Shocking TRUTH About Coronavirus And The "1 Thing" You Must Do Before It's TOO LATE
Hey. Emergency medicine/public health source here. The "1 Thing" is wash your godsdamned hands, stay out of public if you feel sick, and vote for somebody that will implement labor law/healthcare systems that allow people to go to the doctor and stay home from work when they're sick. Everything else is bullshit.
_______________
¹ This mixed metaphor is here only to annoy flat earthers.
² Do I feel that tiny, pink, derptacular unicorns should sport visible buttholes?
³ Which is a bit more than 50% of the way to goal, with 16 days to go.