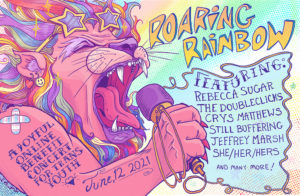 In conjunction with this page's longstanding contention that almost anything can be a webcomic¹ today we are not talking about words + pictures in the traditional sense, but about stories that lead to amusement and joy in this month of both Pride and re-emergence, in the multimedia sense. Which is to say, The Doubleclicks are throwing a concert.
Pride time, baby, and this time we're prouder than ever!

Hi would you like to see a bunch of amazing LGBTQ+ people sing songs and have fun in one big show?

Great news, we are producing such a show on June 12. ROARING RAINBOW is a dream come true, a joyful day of queer pride, and a benefit show for excellent organizations who do valuable work for trans youth, all produced and hosted by the Doubleclicks. Please help us support trans kids at this big powerful giant show!

We have gathered the Internet's favorite queer icons in one place for this banefit concert of epic proportions. Join the Doubleclicks, Rebecca Sugar (creator of Steven Universe), Sydnee McElroy, Rileigh and Teylor Smirl (Still Buffering), Crys Matthews, and SO MANY MORE for a joyful online concert to benefit trans youth.

Check out tickets, extremely cute hats, and so many fun things right now! [emphases original]
That via an email from Laser Malena-Webber, the non-cello half of the sibling duo that wears feelings and nerdery on their sleeves and reminds us that it is okay to be/have those things. Laser and (Doubleclicks cello half) Aubrey Turner are together in the same place at the same time for the first time since the Before Times, and godsdammit, if they're gonna be this happy they're gonna make sure you have the opportunity as well.
So starting at 5:00pm EDT this Saturday, 12 June, at your computer or other internet-enabled device, you'll get to join in with a bunch of rad folks in support of Trans Families and the National Center For Transgender Equality. All are welcome². My guess is that if you're reading this page, you're already a fan of at least a couple of the folks on the bill.
Tickets start at US$5.00 for the concert, US$20 for the concert + aftershow + prize package raffle, and go up to US$100 for sponsorship credit, swag, better chances in the raffle, and the satisfaction of making good things happen for other people. Good things like upping the contributions to the beneficiaries, and also subsidizing some zero-cost tickets (by request) to folks that unfortunately find even five bucks a burden. For those unable to attend, there's some pretty sweet merch on the RR page as well, just scroll down past the tickets.
Okay, thunderstorm's about to roll in and the power is flickering a little, so let's wrap it up here. Whether you make it to the show or not, try to spend Saturday afternoon/evening/morning/whenever it might be wherever you might be being a little extra joyful on behalf of those who surely could use some joy in their lives. And in the words of Laser, Rarrr.
---
Spam of the day:
fleen.com is King but social proof is Queen, and the lady rules the house!
…
…
What.
That's too nonsensical, spammers. What else you got for me today?
Padre, a real life Angel Whisperer, has been communicating with Angels since he was just a child.
Unless Padre has been communicating with Old Testament Final Fantasy Boss Monster-type angels, not interested. And if he has been, my condolences to Angel for being a gibbering wreck.
_______________
¹ To quote me, Homestar*Runner is a webcomic.
² I don't want to speak for Aubrey, Laser, et. al., but I'm gonna take a guess that if any terves want to pony up the ticket price and mind their manners and not be complete dickbags about other people being trans in the world, you'll get to enjoy the show as well.
I also am gonna take a guess that people inclined to tervishness find fun and joy experienced by and in supoprt of trans and gender non-conforming folks to be like kryptonite³ and so they won't be around.
³ Or possibly like Oz witches find buckets of water. Choose your preferred metaphor, they're all equivalent.