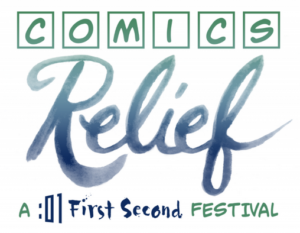 Hey, have the days started to run together for you, rendering all sense of what's a work day and what's the weekend meaningless? Cool, cool … but I've got a work from home job and the weekend actually still has meaning for me and I am looking forward to this one like you wouldn't believe. If the same is true for you, or if weekends are whenever you want them to be for the time being, doesn't matter. I decree that tomorrow is the day for you to kick back and relax a bit. Here's some info to help you plan what you might do.
The :01 Books virtual convention, Comics Relief, which is set for Saturday next week¹, has released some more details in the form of a schedule. The event is shaping up to be something like an All :01 All The Time day of panel content, with the schedule and participants now up for your perusal. Fun starts at 11:00am EDT on the 18th (platform TBA), and if you have any questions for the panelists, you can submit them now².
The Ringo Awards nominations are up, because pandemic or no, there were some great comics last year and it would be a shame not to recognize them. You (yes, you!) can nominate here until 5 June. The winners are presently scheduled to be presented at Baltimore Comic Con on 24 October, but I don't think they can make any promises in that regard right now. Whether there's a physical event or not, I'm sure the honorees will be sufficiently thrilled.
As you may recall, I have noted that Homestar*Runner is a webcomic, and thanks to the machinations of one Mr S Bad, Homestar*Runner is now a webcomic with a free to listen soundtrack of 180 songs, jingles, background music, and other audio miscellania. It doesn't contain the classic Strong Bad Sings And Other Type Hits (featuring Limozeen), but you can purchase that for a measly ten bucks (American). While you're waiting for it to be delivered, revel (revel, damn you!) in 20 years worth of random aural delight.
---
Spam of the day:
Gwenith Paltrow and Kate Hudson have both taken selfies wearing the mask N95
Dude, don't even. The only thing "Gwenith" ever takes selfies with is a fake-ass pseudoscience doodad — hello, jade vag egg! — that you can conveniently buy from the Goop store for the equivalent of two days labor at minimum wage. N95s ain't got nearly enough woo to interest her.
_______________
¹ Reminder: today is Friday. Unless you're reading this on a different day, in which case maybe it's not. Look at your phone, it'll tell you what day it is.
² Oh, and everybody that submits questions will be entered into a drawing for a free STACK O' BOOKS, winner to be announced during the Q&A session (session #6, 4:00pm EDT). 13 years or older, resident of the US to win, good luck everybody.