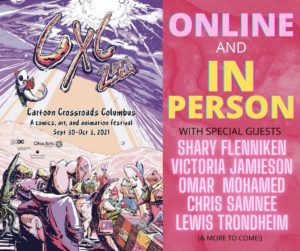 Hey, y'all. How ya doing? Good? Good. It's a drizzly day and there's a very lazy hound somewhat noisily snoring and it's giving everything here a more than slightly soporific character. Let us converse for some little while and then have a nap.
Yesterday, I pointed out a pair of comics-centric events that are taking very different approaches to the (hopefully, persisting) post-pandemic reality. From Massachusetts, an outdoor, spaced-out event; from Long Island, an indoors event that doesn't so much as mention health protections and shows lots of photos of crowded-together folks.

Given that New York City formed the centerpoint of the pandemic in this country through its devastating first wave, you'd have thought that a place just the other side of JFK would be more mindful but ¯\_(ツ)_/¯.

So how would something larger than Mini-MICE go about an event in the latter half of 2021 while taking due care? Glad you asked, Sparky. Let's take a look at what CXC has on deck for October:

CXC 2021 will feature a mix of online & in person events! Our Vendor Exhibitor Expo will be held virtually over Discord, but some festival events will be in person at partner venues in Columbus, OH. Details: https://cartooncrossroadscolumbus.org/?cat=8

(& check out the poster art by Gabby Metzler!)

Drilling down into the show website gives us some details:

CXC 2021 will mark a return to some in-person events following a show that was all online in 2020. Some events will be online only, and several of the in-person events also will be broadcast online. CXC will follow the city of Columbus's health guidelines and the recommendations of its programming sponsors when determining any necessary precautions.

We will have more information in the coming months about which events will be in person and how to attend, and how to view online events. Follow us on social media (Twitter, Facebook and Instagram) or check our website (cartooncrossroadscolumbus.org) for the latest.

Good start — acknowledge the fact that things will change in the coming months, set out a model that likely can be made good on even if progress towards reopening stalls, indicate where more information can be obtained. Furthermore:

One online event will be the CXC Expo, a part of CXC in which creators sell their work to the public. Similar to last year, the CXC Expo will be held online through CXC's website and Discord Server. We are eager to return to an in-person Expo in 2022.

"It's a challenge to plan in our ever changing health and safety environment. We appreciate the flexibility of our guests, presenting partners, donors and audience as we balance our desire for in-person events with proper protocols," said Jerzy Drozd, CXC's interim executive director. [emphasis original]

Further acknowledgement of reality, a nice outreach to everybody with a stake, and a clear assumption of responsibility right from the top¹.

Additionally, CXC announced its first tranche of guests (Chris Samnee, Victoria Jamieson, Lewis Trondheim, Shary Flenniken) and a new award named for Spurgeon:

This year's festival also will mark the debut of the Tom Spurgeon Award, named after CXC's founding executive director, which will be awarded to someone who is not primarily a cartoonist and whose support of cartoonists and cartoon art enhanced the field in a lasting and measurable way.

… The award, suggested by Tom's family, will be a way to honor an individual who has made substantial contributions to the field but is not primarily a cartoonist.

"The breadth and depth of Tom's experiences as a journalist, comics historian, and reporter make him the ideal model for an award celebrating the contributions of non-cartoonists to the field," said Lucy Shelton Caswell, founding curator of the Billy Ireland Cartoon Library & Museum at Ohio State University and a co-founder of CXC. [emphasis original]

Speaking of people that enhance the field in lasting ways, readers may recall that we at Fleen are deeply interested in the production work that goes into comics, particularly of the editorial variety. So it was with particular interest that we noted a rather unique manuscript being newly offered:


MAKE YOUR COMICS leaner/meaner/faster/cleaner!
FILTH & GRAMMAR: The Comic Book Editor's Secret Handbook.
Click thru to sign up for more info [various emoji]
https://kickstarter.com/projects/sxbond/filth-and-grammar

Better believe I signed up for notification. Bond is a legend in editing circles, and everybody that edits comics (or wants to edit them, or wants to edit them better) should be grabbing a copy while they can. So should everybody that writes about comics, and — somewhat counterintuitively — everybody that makes comics.

Making comics and editing comics are completely different skills, but understanding what the editor is doing and why they do it? That can only lead a creator to make better comics. If nothing else, it'll hopefully convince creators that editing your own stuff lies somewhere between impractical and impossible². I suspect that in very short order, Filth & Grammar will belong on every shelf right next to Understanding Comics.
---
Spam of the day:
Elon Musk's SpaceX will launch the "DOGE-1 Mission to the Moon" in the first quarter of 2022, with the company accepting the meme-inspired cryptocurrency as payment. Doge has gone up 1161% since early April this year. If you want to be part of this history moment, you can buy Doge coin at Binance here (biggest crypto exchange in the world).
For reference, this was sent five hours after Elon Musk announced that Tesla was getting out of the crypto space.
Elon Musk intends to distribute 25,000 bitcoins. Today I sent 3 Bitcoins to Tesla and received 6 Bitcoins back !!! Bitcoins are returned doubled. The company's website keeps statistics in real time, who sent and received how many bitcoins in double the amount.
… and this one was sent the day after. Scammers apparently think that crypto enthusiasts are very, very stupid; given that they believe in magic math based on nothing that can be used to purchase upwards of seven different legal goods and/or services at the costs of crippling computer supply chains and hastening the end of human viability on the planet, I am forced in this circumstance to conclude that the scammers are correct.
_______________
¹ Speaking of which, let's acknowledge the stellar job that Jerzy Drozd did stepping into the suddenly-empty shoes of the dearly missed Tom Spurgeon, and managing the sudden shift to a pandemic-restricted form from practically day one on the job. If CXC doesn't keep him on in a permanent capacity, every comics event in the world should be competing to obtain his services.
² Says the guy who self-edits … but when I've been asked to write particularly important stuff for others, damn right I've sought the opinion of editors I trust. The feedback I received on one occasion caused me to completely discard what I had previously considered to be 95% of the way to final and start over in a radically different direction. It made for a radically better piece, for reasons that made sense when I was done but which I couldn't see at the beginning because — say it with me — you can't edit your own stuff.