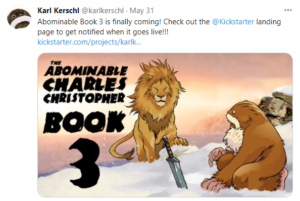 Whoo, those until-two-am EMS calls really put a crimp in the next day. It's late, so this will be brief, as we share news of a couple of enticing product [pre]-announcements.
First up Raina Telgemeier is a ways from her next book; turns out that pandemics completely disrupt publishing schedules, which are complex webs of editors, publicity, planning, printing logistics, and supply chains that run from China across the Pacific. Probably isn't too great for the brain space of the folks that need to put together the books that will be appearing next year and the year after that, either. And then there's the fact that Raina's published five monster hits from 2010-2019 and if we want to see the next five, she's due a breather.

But even if there's not a story coming the immediate future¹, there's still Raina news to keep your eyes on, starting today:

I'm so excited for tomorrow's release of 'Raina's Day,' my new 450-piece jigsaw puzzle collaboration with Clarkson Potter! Be sure to check out my website for some sneak-peek photos and ordering information! https://goraina.com/merchandise-puzzle

That's a puzzle of cartoon Raina surrounded by all the thoughts that define her, packaged up in a box that looks for all the world like cartoon Raina's sketchbook or diary. I dunno about you, but I've got multiple [grand-] nieces and nephews that are going to go incandescent when they see it.

It was not two weeks ago when we at Fleen looked at the latest webcomic offering from Karl Kerschl and noted that The Abominable Charles Christopher's third volume had been a-borning for longer than anybody would want, but that the wait would be worth it. It would be madness to claim that Kerschl took my plaintive observation as the motivation to quickly throw together a full boo design and get a Kickstart set up — those tasks take forever — but what the heck? He announced it:


Abominable Book 3 is finally coming! Check out the @Kickstarter landing page to get notified when it goes live!!!
https://kickstarter.com/projects/karlkerschl/the-abominable-charles-christopher-book-3

31 May was a very good day for product announcements, yo.

We don't know what form book 3 is going to take, or what timeframe to expect it in, but soon enough we'll have the campaign launch and get those answers. All I know is I've got to make room on my bookshelf for a new hardcover² in the near-ish term. Charles Christopher! A malevolent lion! A shouty and ineffectual Gilgamesh! RPG-fan forest critters, awkward owlets, a cockroach shrink, Vivol the bear, Luga the honest wolf, and Sissi Skunk's shenanigans! Stick it in my brain.

Oh, and a followup to Friday: US$580,099, thirty grand above the McDonald's Ratio, and a full fifty grand above the previous record holder. Dang.
---
Spam of the day:
We have a special limited offer for you to send unlimited emails. We allow non-permission based emails and you won't ever get blocked.
You are offering me the opportunity to annoy other people as much as you're trying to annoy me? And yet you wound up in my spam filters, where I could have easily ignored you forever. You're not very good at this.
_______________
¹ Which is not to say there haven't been any stories with her hands in. The death-themed anthology from Iron Circus, You Died, includes a Raina-illustrated story about beloved father, a collection of ashes, and a trip to a theme park that is absolutely not Disney for a surreptitious scattering. It's heartwarming and hilarious, and Raina makes the most of writer Casey Gilly's script.
² And, eventually, a fourth book, but we'll cross that bridge etc.