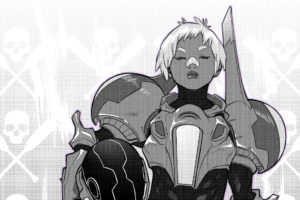 Hey, want to read about a top-tier comic-crafter from the worlds of print and web and his new project? Or how about a woman with no less skill but earlier in her career about to hit book and comic stores in a big way, to match her deep online following?
Folks that have read this page for a while know that we at Fleen have boundless enthusiasm for the personage and work of Karl Kerschl. His webcomics work has, on occasion, had to make way for print work — your Teen Titans, Gothams Academy, Isolae, etc — and if it's been longer than one might have hoped for book three of The Abominable Charles Christopher to see print or for the story to wrap, well, that's just reason to wake up tomorrow morning. It's one of the best, most heartfelt, and simple finest looking webcomics that's ever been, and it's free so what have we to do but celebrate that we've gotten what we've gotten?

Which is why it's such wonderful news that we're getting a whole other webcomic from Kerschl, one that's updating in issue-sized chunks:

First issue is online for free!!! Read it at http://karlkerschl.com

The first issue is that of Death Transit Tanager, a manga-influenced sci-fi story about a young woman, a galaxy that needs traveling, and souls that need conduct to their rest. Episode one can be read right now, and if you like it (he said, entirely rhetorically), the PDF is available for purchase, but Kerschl's noted that subscribing to his site is a better option, providing a pay-what-you-want (two bucks per month and up) means of supporting his work:

[A]ccess to full-length process videos, pre-production drawings, sketches, community polls and all sorts of fun behind-the-scenes stuff that doesn't usually see the light of day. AND you'll also be part of the discussion by having access to comments on posts.

Plus discounts on everything in his shop, including convention¹ sales, along with first word on new releases, early-bird access, etc. Kerschl's simply one of the best creators we've got, and Death Transit Tanager is an act of faith on his part — that great comics given away will result in tangible support for him and his family. Give it a read, and see if he's right.

And speaking of webcomics making a splash and seeking new audiences, Image Comics has looked over at Webtoons and said, Hmmmm, creators with established audiences online, maybe they might like to engage in an exchange of money for physical goods and struck a deal with Linda Šejić of Punderworld (and, for good measure another 10% of her audience is over at Tapas). The retelling of the Persephone/Hades myth² (that isn't Lore Olympus4) will run near 200 pages and release to comic shops and bookstores at the end of August.

Given the significant number of readers that top-drawing comics have on the aggregator sites (Punderworld has a relatively modest 350,000 verified subscribers; others get into multiple millions), it's really only surprising that more webcomics haven't reached deals with publishers — although the vagaries of who gets the right to do so are buried deep in various ToS and I'm not a lawyer — and I expect that we'll see more of these in the future.

For reference, 350K would be more readers than any title in 2019 (the latest year for which Brian Hibbs has caluclated year-end sales performance) not by Dav Pilkey or Raina Telgemeier. And would be more than thirteen times greater than the top-selling Image book of that year, the latest Walking Dead Compendium (26K copies sold). Comics doesn't look like what it used to, and any publisher that twigs to that fact and gives the fans of these very different properties what they want? License to print money.
---
Spam of the day:
The Kitchen Device You Didn't Know You Needed Super Sale on the Butter Spreader
A knife. You're talking about a butter knife. They already have those.
_______________
¹ Conventions were things that we had before the Plague Year And A Half, and will again in the future.
² Hades has been all kinds of hot in the culture for the past bit, so good on Image for striking while the iron is hot³.
³ Yes, I know that's more of a Hephaestus thing.
4 All kinds of hot.