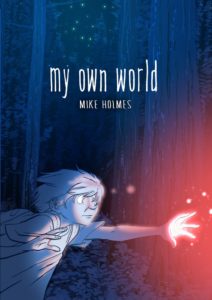 Here's some more that are coming out in the next few weeks, that you may get in your orders and enjoy.
We at Fleen have, I believe, been in the tank for John Allison since small times, as the saying goes. He has nary an idea that isn't going to be amusing as hell, ranging from droll wordplay to flat-out hilarity and back again, frequently on the same page. For much of the past couple of years, he's let loose with his wilder instincts for absolutely unrestrained stories via Steeple (both in print and in the online continuation).

Furthermore, throughout his long history of Tackleverse comic-making, he's found individual characters around whom others accrete and orbit, by which manner all manner of stories may be hung: Shelley Winters, Esther de Groot, Charlotte Grote; by complete coincidence, each of these has been my favorite character of his in turn, often trading the role back and forth and one or another is given pride of place.

Of late, he's collided La Grote and The Ginger Ninja with Steeple in Author Unknown and it is a marvel, but come August we'll get the second Steeple trade, collecting the The Silvery Moon and Secret Sentai story arcs. Mayhap if we're good, we'll soon get a third collection, with Christmas With Clovis and the currently-running Author Unknown.

A little closer to the present day, which is to say the 22nd of June, we'll see not one but two new releases from :01 Books, which always makes for a good day. The first is from Mike Holmes (at press time, his site appeared to be down, so here's his Twitter), who's been making excellent comics with other folks for about forever, but now gets to stretch his legs and show us his solo work.

My Own World is about being a kid, about not feeling in control, about finding a place where you can be in control, but maybe lacking the meaning of the (so-called?) Real World. It sounds like an up-aged version of Vera Brosgol's Memory Jars, which should allow for some amazing storytelling and visuals. Introducing a middle grade reader to the concept of there being things that you can't control and that's not a tragedy is going to be a tightrope to walk, but I've got complete confidence that Holmes will be able to navigate it.

And perhaps taking a similar tack to My Own World, Nidhi Chanani will be following up her superlative Pashmina with Jukebox, a time travel story about music, searching for meaning (and also your parents), and how life changes (or maybe doesn't) from decade to decade.

Readers may recall that my chief complaint with Pashmina was that it deserved about 50 more pages to really delve into the magical-realist conceit, and it looks like Chanani will get that here; time traveling via magic jukebox to the eras of beloved songs offers at least as much room for exploration as finding the history of your family through a shared article of clothing.

Plus, a) the world needs more books centering brown girls, and b) Chanani has a love of vinyl that impressed former college DJ me, so I think there's going to be a lot of factual and emotional authenticity for readers to dig into here. Plus, her work is always just so joybringing, even when tinged with fear or melancholy — there's a natural exuberance to her characters that works really well in the long form.
Steeple: The Silvery Moon releases 4 August to comic shops and two weeks later to bookstores. My Own World and Jukebox both release 22 June to bookstores. The former is highly recommended based on previously-released web content, and the latter pair based on the prior work of the creators. They're gonna be good, folks.
---
Spam of the day:
Hi, Would you like a free article for your websit? I'd like to put something together that offers advice to prospective entrepreneurs who've experienced past financial setbacks on how they can get their dream business up and running.
My websit is just fine without your fake-ass motivational bullshit. If you knew how to be an awesome entrepreneur, you'd be doing that instead of trying to convince people you know how to do that.