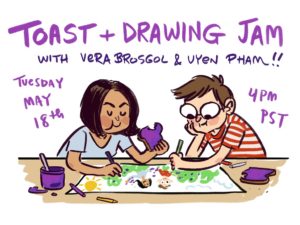 The next 6-8 weeks have a stack of graphic novels about to drop and I wanted to spend a little time talking about some of them, and their creators. Some of these I'll have seen advanced review copies of, some I haven't, and in any event these aren't going to be reviews — they're going to be me talking about stuff that looks really friggin' good so that you can look for them in your local shops. First up: a pair of creators whose work we at Fleen are big fans of.
It's been a while since Vera Brosgol had a full graphic novel, but she's been giving us amazing children's picture books since then — Leave Me Alone! and The Little Guys are favorites among the younger members of my family — and she's about to gift us with another.

Memory Jars is about a young girl who discovers that she can keep anything in jars, safe and whole exactly as it is now, forever. You never have to give it up, you never have to say goodbye. Or, as Brosgol put it somewhat more compactly, [I]t is about canning and death and yeah — there's some melancholy in there. If a child is ever to gain an appreciation for the ephemerality of life, the fact that all we know will someday cease, there's hardly a gentler way to learn that with this book. There's also jam, so that's cool.

Although Memory Jars does not release until Tuesday next week, Brosgol will be doing a live reading and drawing chat thing tomorrow at 7:00pm EDT¹ with LeUyen Pham, with An Unlikely Story of Plainville, MA sponsoring (registration here). Copies of Memory Jars purchased through An Unlikely Story will come with signed bookplates (while supplies last), as will copies from Brookline Booksmith (Brookline, MA). Green Bean Books in Portland has signed and sketched copies; try getting awesome extras like that from Jeff Bezos. You can't!

We're a little further out from the release of Molly Ostertag's The Girl From The Sea — it'll be in stores a week after Memory Jars — but there's still time to get your orders in with your local retailer. If you need convincing, the first scene is up for sneak peek and it is terrific at setting up the story. We don't know where things will go after these few pages, but we know that there's all kinds of details about Morgan Kwon's life that we want to know. It's master-level storytelling economy and proof that Ostertag really thinks about how to structure a story.

More proof, if any were needed, is over at Ostertag's alt Twitter account, which is mostly devoted to gayifying Tolkien — I have been reading the various chronicles of Middle Earth for about four decades and cannot believe I didn't see just how romantic Frodo and Sam are — where she's shared some of her process work for her latest short gay hobbits comic.

Thinking about how to compose the pages, thinking about how to end the story, showing off the things she's figured out on her own make for a better comic in her character-drive mode. Watch how the basic idea becomes a paragraph of idea outline becomes panels. The thing that I never thought about before but which makes perfect sense in retrospect² is her pacing rule of thumb: if the outline has the word and in it, that means a new panel.

Well, that and the rule about where the reader's eyes will progress in the panel and how to guide them. And how panel height conveys time. And how words can indicate physical closeness in characters. It's almost like drawing a hell of a lot of great comics will make you better at drawing great comics³.
---
Spam of the day:
1 tsp of THIS forces poop constipation out of you – permanently?
That sounds explosively traumatic and permanently disabling. Maybe just improve your diet and get some live-culture yogurt instead?
_______________
¹ I know the tweets says 3:00pm PDT which would be 6:00pm EDT, but the promo image and registration page say 4:00pmt PDT and 7:00pm EDT respectively, so that's what I'm going with.
² Getting a lot of that from Ostertag, it seems.
³ And it's also almost like Ostertag has spent way too much time in Appendix C of The Lord Of The Rings, and knows from the family trees that Sam has an older sister named Daisy. Not that I'd know anything about that.