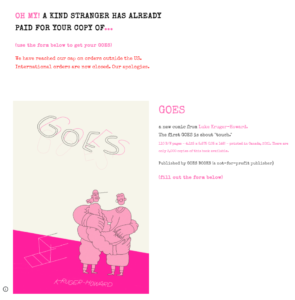 And for once, the title refers to both the main topic and to the daily spam.
Everybody should have a friend like Lucy Bellwood; in fact, I'm pretty sure that if you're reading this, Lucy Bellwood is your friend, on account of she is damn near everybody's friend. Are you a completely horrible person? No? Then she's probably your friend.
Anyhoo, she dropped me a note about something she thought I might find interesting, and as usual her instincts are dead on; from the text exchange we had:
I don't know whether this has crossed your radar, but my pal Luke just launched this absolutely DELIGHTFUL publishing experiment for his latest minicomic that's based on sort of anti-capitalist, pay-it-forward-if-you-can get-comics-for-free model and I thought of you immediately.
Luke would be Luke Kruger-Howard, and the experiment would be GOES BOOKS, where you are greeted with text that reads
OH MY! A KIND STRANGER HAS ALREADY PAID FOR YOUR COPY OF…

GOES
a new comic from Luke Kruger-Howard.
The first GOES is about "touch."
110 B/W pages – 4.125 x 5.875 (105 x 148) – printed in Canada, 2021. There are only 2,000 copies of this book available.

Published by GOES BOOKS (a not-for-profit publisher)

(fill out the form below)
As of this writing, only domestic-US copies are available; all of the copies set aside for international distribution have been claimed. The form is for your mailing info, in exchange for which a copy of GOES will be sent to you, gratis. There is a button that takes you to a page where you can pay for a copy to go to a stranger.
Kruger-Howard notes that US$4 is the approximate cost of making and sending a copy in the US (again, international orders have been closed), but the amount you give is up to you. Funds in excess of those needed to distribute the 2000 copy print run will be donated to charity, as this is entirely a nonprofit endeavour.
This is the most delightful thing I've seen since Shing Yin Khor announced the Space Gnome Mercantile Exchange, with merchandise that can only be obtained by barter of poems, good rocks, plant cuttings, and other near-ephemera. The only quibble I'd have is that at 110 pages, GOES is considerably longer than a minicomic, and approaches the realm of interactive art:
GOES BOOKS is an experiment.
Our focus is on creating a relationship between artist and reader, and to not allow money to become a factor in that relationship wherever possible. Instead we aim to explore the idea that there may be other untapped benefits available outside a "dollars-and-cents" model. No profit is had in the making or distribution of these books. Money received by GOES BOOKS will be put toward gifting copies to other readers. Any money earned beyond that will be donated.

The charity for our first project is:
RAICES — a refugee and immigrant center for education and legal services.
Part of the reason that Lucy thought about me was she'd been thinking of my recent reminder about why I don't give to Patreons, and figured (rightly!) that putting that amount of thought into payment models meant that I'd be interested in this. Since this falls cleanly into the already produced, not subsidizing the creation of that which I might review category, and since I figure US$20 is a fair price for a 110 page comic, I've given that much to the experiment. Unable to pay US$4 forward? Don't feel bad, gotcha covered.
Here's hoping that Kruger-Howard finds more topics of exploration for future issues of GOES, and other creators willing to work for him (and not for free, either).
---
Spam of the day:
Hello Mr (Mrs) GARY, I'm A Student And I'm Honored To Be Selling T-Shirts For You. I have all Size – Color – Product Type – Gender Guaranteed Delivery in 4-10 days for you I know you very love your Family and want have T-Shirt for your Family. I would be honored to sell T-Shirts for you, Help me have many orders. Thank you a lot, Have a good day.
I think this person thinks that Gary is my family name, on account of they've sent pictures of more than a dozen amazing shirt designs, the message of which really only makes sense if it's not just me, Gary, hanging out here¹. Just look at these beauties. There's more! They wouldn't all fit on one screen!
_______________
¹ In fact, a bit later in our text chain, Lucy and I both expressed much admiration for each other and determined to be more like the other when we grew up, so at some point in the future she may also be a Gary. I might have to pick up a hoodie for her that says GARY BLOOD RUNS THROUGH MY VEINS.