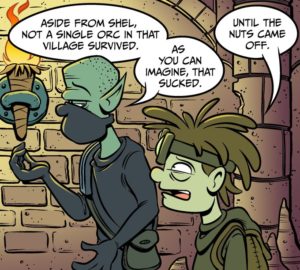 I just want to eat my pasta¹, ignore Jeopardy!², and veg out. But first, I want to point you to an exciting development.
Necessary disclaimer first — from the very beginnings of Fleen, my hosting has been provided by Jon Rosenberg, as readers of this page are reminded every once in a while; I just don't want there to be anybody thinking I'm hiding that relationship. I hold that when I talk about what Jon's doing, it's because it's genuinely interesting to me, but you can judge for yourself if I'm speaking from a biased position.
Okay, so Scenes From A Multiverse has had some recurring characters, but not what you'd consider a storyline, except for the deconstructed pseudo-fantasy that is Dungeon Divers. There's a lot of story there, and a lot of character, and you can see Rosenberg's approach to the story change with changes in his life, particularly as his children have been growing up.
It also hasn't updated very much since … forever. The Trump Interregnum pushed Rosenberg to the political end of the cartooning spectrum — some of his best work ever, bee-tee-dubs — but you could tell his heart was with the Divers.
He had plans to get back, and then a pandemic hit, and one thing and another³, culminating in his family getting hit by the 'rona — fortunately, to no great detriment, but not fun times.
Having stared down the Plague and found it wanting, Rosenberg's thrown himself into writing, and the first new update of Dungeon Divers in about forever is now up at his Patreon. The plan is to concentrate on doing the story as one big thing instead of a handful of updates interspersed with other comics. It'll be a book, but Patreons can read the new installments as they go in, which I expect will be at a pretty brisk pace.
Me? I'll be waiting for the book, because I'm not a user of Patreon. I point readers to a lot of them — despite my cynicism about the plans that the venture capital funding the site has for the long term — but I don't plunk any money in. I've mentioned this in the past, but I don't think I've ever spelled it out explicitly.
I see a difference between getting sent review copies of books (got one in the mail today, in fact), or reviewing books (or other forms of story, as required) that I have bought for myself. But I think I run the risk of losing the necessary critical distance — or even just the perception of it — when I move from purchasing a finished product to supporting the initial creation of that product. It's just the line I've drawn in the sand, so you'll have to get other people to tell you how good the new Dungeon Divers updates are — I'm guessing very — and I'll be sure to tell you what I think when the collection comes out.
---
Spam of the day:
CAREDOGBEST™ — Personalized Dog Harness. All sizes from XS to XXL. Easy ON/OFF in just 2 seconds. LIFETIME WARRANTY.
My dog's hobby is keeping the couch from floating away with her unconscious body weight. I think we're good.
_______________
¹ Radiatore, which are verifiably the best pasta shape. They look like little radiators, and they catch up lots of sauce in their vanes. Just the best.
² We're on day 8 of 10 of Doctor Fucking Oz as guest host and just … okay, look, I've never been on Jeopardy! although I've been playing from the couch since '85 or so. I am very much in agreement with the 600+ past contestants who signed an open letter that asked — paraphrasing slightly here — Have you fuckers lost your mind, inviting that truthless charlatan to host?